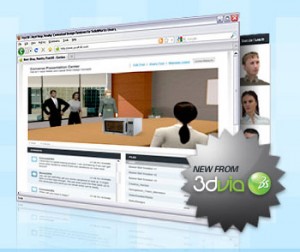 Post3D (formerly called 3DVIA Scenes or SolidWorks Design Center) is Second Life for SolidWorks users.  It provides an interesting way to communicate files and concepts in 3D through an immersive online experience.  As stated in the promotional material,
Users can invite friends, co-workers, clients, or anyone to share and experience their 3D creations online in an intuitive and interactive interface. Post3D is powered by a gaming engine and users can experience scenes and products as avatars. 
The product was demonstrated at SolidWorks World 2011.  Bernard Charles showed how a solid model of the Ultimate CAD Chair could be shared with others around the world.  I've never played Second Life, but after seeing the demonstration, I think I know what the Second Life is like. 
Individuals enter a common space to view solid models uploaded for viewing.  Each person is represented by an avatar.  Charles' avatar looked suspiciously like Charles.  I wonder how much time Charles spent making his avatar.  Post3D seems like a fun distraction, but I am unable to determine the full value for this application at this time.
3DVIA will be conducting a public Beta release in Q2.  General availability is planned for Q3 2011.
Did you enjoy this post? Why not leave a comment below and continue the conversation, or subscribe to my feed and get articles like this delivered automatically to your feed reader.