Parts
Zooming methods are the same as assemblies, with zoom fit, zoom home, panning, etc.  Play is also available.  I don't know what it is about Play; there is just some inexplicable joy that comes from watching a model transition between views.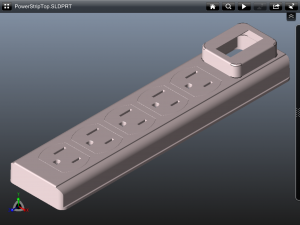 Configurations are also supported for parts.  Switching between configurations is a breeze.
Same as other eDrawings releases, DimXpert dimensions are viewable in eDrawing part (.eprt) files.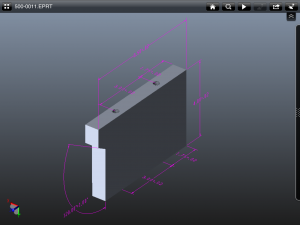 Drawings
Zoom tools work a little different for drawing.  There is still pan, zoom in and out, zoom fit, and zoom home.  Logically, you won't have the ability to rotate a drawing sheet into 3D space.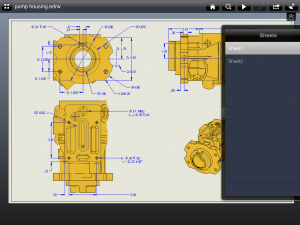 When viewing a drawing, Play works the same in eDrawings for iPad as it does in other versions of eDrawings.  Watching a drawing transition between drawing views is even more enjoyable than watching a model because the associated dimensions are displayed at each waypoint.
Drawing sheets are also supported.  Switching between drawing sheets may be done through the Sheets tree.
Usability and Performance
eDrawings for iPad is very intuitive for anyone familiar with multitouch screens.  One finger drag rotates the model.  Two fingers pan.  Pinching zooms.  I've used this app on both an iPad and iPad 3.  On either of these devices, manipulating the model orientation has great responsiveness that is as immediate as you may expect any iPad app to be.  For example, switching between configurations and sheets using the tree is very quick.
Loading a file into eDrawings for iPad is also a snap.  You can copy files to your iPad via your iTunes interface.  Even easier, just email the file to yourself or someone else who has this app installed.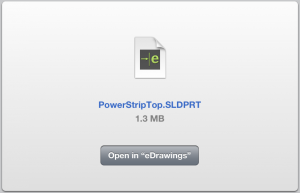 When downloading the model file through your email interface, you are automatically presented with the option to open it in eDrawings.  If you accept, it is added to your User Files and opened.  Very convenient.
Bottomline
eDrawings for iPad has enough functions to immediately make this a useful tool.  It is very inexpensive when compared to similar applications that view native SolidWorks files on the iPad.  The app is very easy to use.  These points give this app a  great combination of qualities.
eDrawings for iPad is available as of May 1, 2012 from the Apple App Store.  Please find and install this app through App Store from your iPad device.  Search word: edrawings.  Or, follow this iTunes link.  There is a lively discussion on Twitter under hashtags #edrawingsforipad, #eDrawings, or just plain search for edrawings.  Also, if you wish, check out the SolidWorks.com introduction site