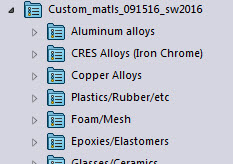 Custom materials in SOLIDWORKS are important if you are using materials not included in the default set.  Around a decade ago, Chris Saller compiled a bunch of such custom materials from varies sources based on requests and submissions from many different people.  This list is informally known as Ctopher's Custom Material Database, "ctopher" being Chris' handle.
Various versions of this file have been available on now long-gone websites over the years.  Well, the material database is finally back and bigger (better) than ever!  Chris has complied a new version in SOLIDWORKS 2016.  This new version has many new materials.  The new database is now available directly on SolidWorks Legion in the File Downloads tab as Ctopher's Custom Material Database.
There are two methods to point SOLIDWORKS to use a custom material database.  The easiest method is described on Ctopher's Custom Material Database download page.  Below is a slightly more advanced method which should also work on networks.
To point SOLIDWORKS to make the materials in this database available:
1.To use, place custom_matls_091516_sw2016.sldmat file into an easily accessible folder, such as S:\SOLIDWORKS Shared File\Custom Materials.  The folder is your choice, based on your network and operational set up.
2.Start SOLIDWORKS.
3.Goto Tools>Options…>System Options>File Locations.  In the Show folders for dropdown, select Material Databases.
4.Select Add button.  Navigate to your chosen folder, such as S:\SOLIDWORKS Shared File\Custom Materials.
5.Select OK button.
6.Repeat for all instances of SOLIDWORKS within the network that need to access this database.
To use the custom materials:
1.Open any part file.
2.In the Feature Tree, right click on Materials and then select Edit Materials.  "Custom_matls_091516" folder will be on your material list.
4.Click on desired subfolder, such as Copper Alloys.
5.Click on desired material to view properties.
6.Click on Apply to apply that material to your part.
7.Click on Close to return to your part.
Ctopher's Custom Material Database
This year, I've been on a kind of unorganized SOLIDWORKS User Group tour.  I've presented at user groups in Tulsa, OK, Denver, CO and Seattle, WA.  The diversity of meeting locations never ceases to surprize me: hotel conference rooms, high school machine shops, college meeting rooms, libraries.  BTW, I'm not pictured in any of the photos below, as I was the one who took these photos of other speakers at these events.
In Tulsa and Denver, I presented on Drawing Views.  As simple as this topic may seem for many, even experienced users have told me they learn something new when I talk about Drawing Views.
In Seattle, I presented on SOLIDWORKS drawing functionality that has been added since SOLIDWORKS 2013.  Even though most of the capabilities I discussed were available since SOLIDWORKS 2014 and 2015, even seasoned users of SOLIDWORKS 2016 jumped up with excitement as they found out about "new" functionality.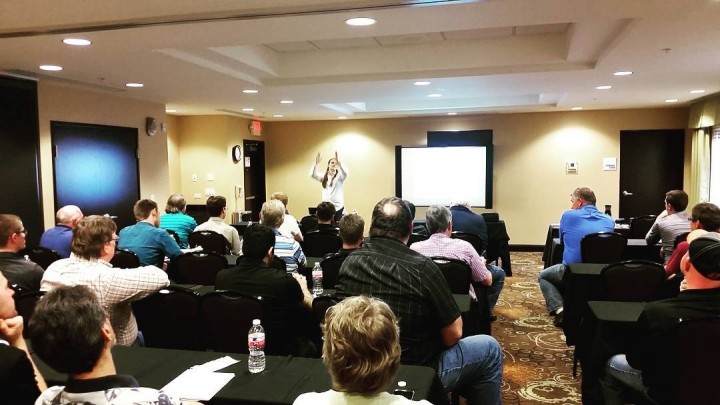 Tusla, OK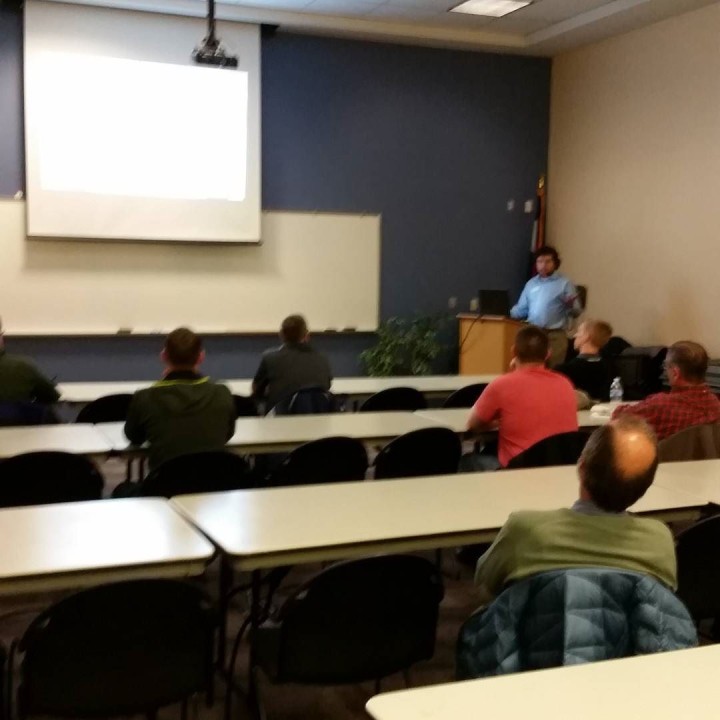 Northern Denver, CO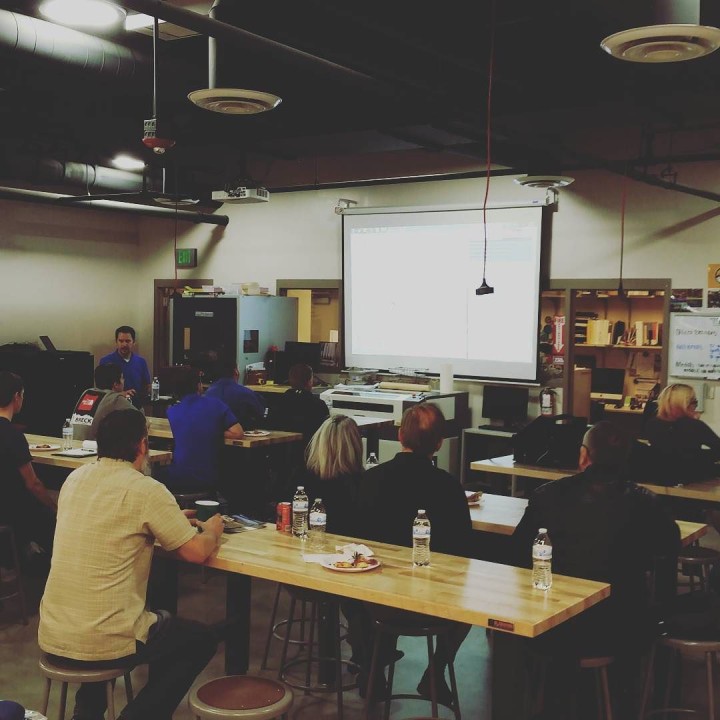 Southern Denver, CO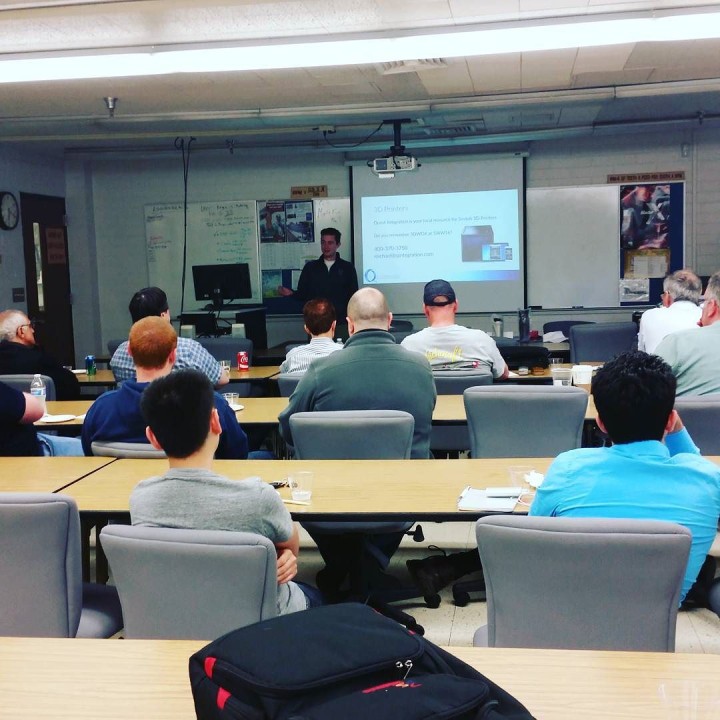 Seattle, WA
This year at SOLIDWORKS World was full of product announcements, every day during the general sessions: SOLIDWORKS PCB, SOLIDWORKS Maker, term licencing option, online trail, Xdrive, Xdesign, and that's just the first day!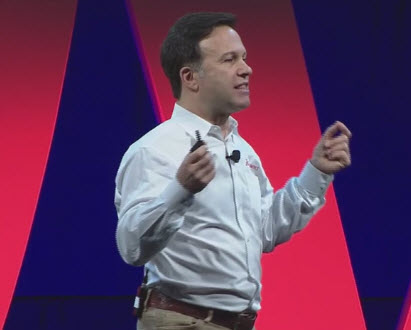 A touch device friendly interface of SOLIDWORKS (any device, any time, any where) was also briefly demonstrated.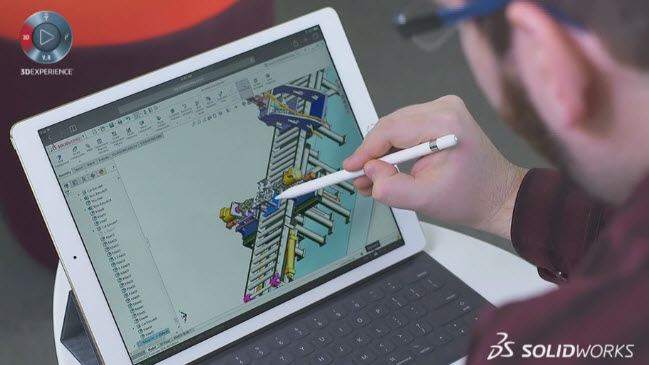 As usual, the Research and Develop team were honored for the hard work that goes into creating all these new products.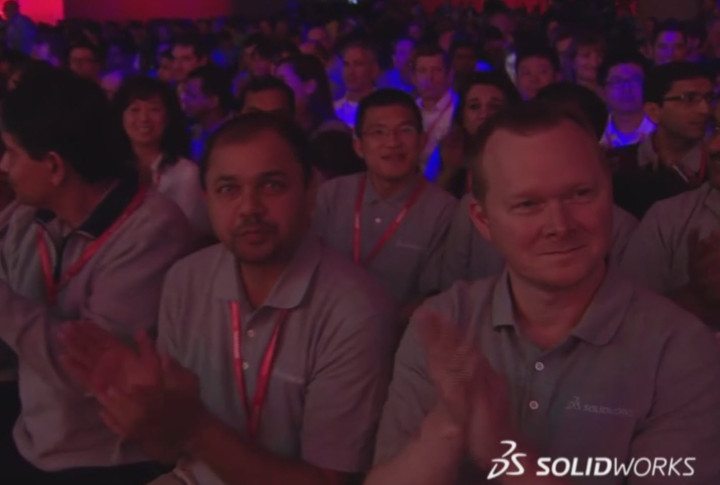 There was a lot to take in.  Even some surprizes for those of us working hard to bring new products to life.
Watermarking models (and drawings)
Change drawing scale on-the-fly
Preselection for Dimensions
Also in New in SOLIDWORKS 2016
Automatic Drawing Border
Center mark scaling
Flag Notes
Also in New in SOLIDWORKS 2016
There's a classic problem with drawings:  interpretation.   Without enough information, there is always some sort of ambiguity.  Let's take at a classic interpretation problem for example.
What is the shape of the part being described by this drawing (below)?  Note that Hidden Line Visible is turned on for both the Front and Top views.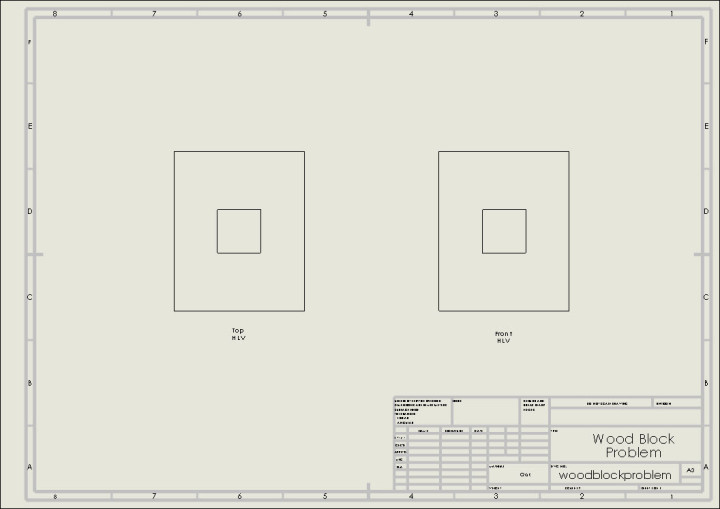 Because HLV is on, this cannot be a sheet metal bracket, since you'd be able to see the sheet metal wall as hidden lines in both views.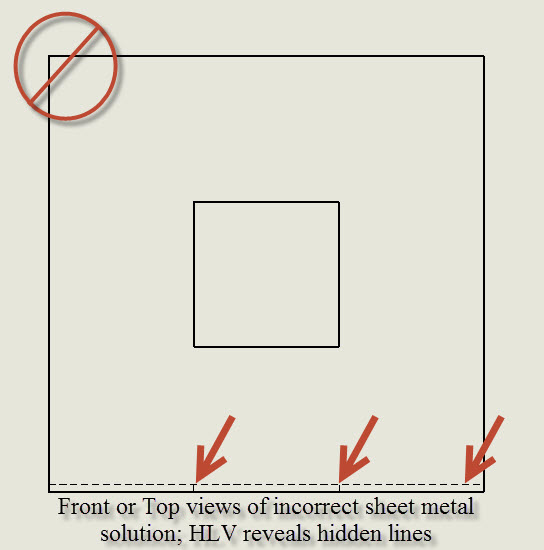 So, can you model this part?  Well, I'm not going to make you wait for the solution.  If you want to cheat to see the solution modelled in SOLIDWORKS, feel free to download it here: woodblockproblem (SW2015).