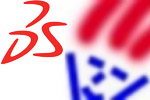 As some already know, DS SolidWorks Corp recently hired me as the new Product Definition Specialist for drawings.  As such, I am no longer a neutral outsider in affairs related to SolidWorks Corp or any products created by Dassault Systemses.  I will no longer be posting commentary about future capabilities in SolidWorks, nor business plans of the corporation.  I will also likely scale back the types of product reviews that I conduct.  I will still contribute other types of articles to SolidWorks Legion, such as how-to's, tips and tricks, coverage of public announcements, etc.
This website will still remain my own, and will still not be promotional in nature.   Its content is not reviewed by SolidWorks Corp.  It will not be an official channel for information from SolidWorks Corp.  No specifics about my role at SolidWorks nor any projects, nor customers will be discussed on this website.  I will still cover events, particularly those that I attend, such as user group meetings, SolidWorks World and SolidWorks Technical Summits.
That said, this website is called a Legion for a reason.  There are other contributors to SolidWorks Legion are still free to express themselves.  As always, each contributor is responsible for their own submissions.
I may post SolidWorks related communications via my new Twitter account @swsuper.  That account will likely be used for any official SolidWorks work, such as survey links.
Your comments about this news are welcome.