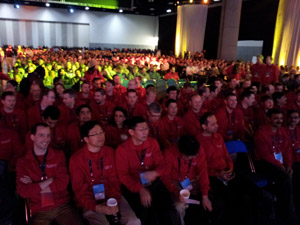 SolidWorks World 2012 saw some firsts and some lasts.  Attendance peak was just shy of 6000, first time attendance reached that level.  Attendance of the CSWP-CSWE Event was well over 800, also a first.  Yet, there's a last too.  This was the last time the event is for CSWP attendees.
Next year, the special event will only be for CSWEs.  In part, this is in recognition of the success of the CSWP program, where having the Core certification is becoming the norm.  It is also meant to honor the new status of the CSWE.
This is also my first SolidWorks World as an employee.  This means I was very busy with the business of…well, I was working.  This was the reason for my lack of posting articles during the conference.  As mentioned previously, I did frequently update the SolidWorks World 2012 flickr group and the hashtag #sww12 on Twitter.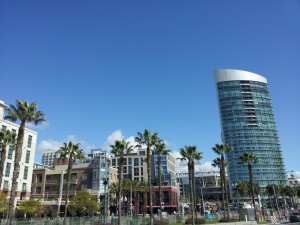 Along with some first and lasts, there are also some repeats.  San Diego was again a great host city, even covering the conference on a local news station.  We again had an awesome Gaslamp Block Party as the Special Event.  The food was much better this time around.
Birds-of-a-feature is where people of similar interests can enjoy their meals together and have interesting discussions.  There's been some experimenting with the format of this idea in recent years.  This year, Birds-of-a-feature was returned to the Breakfast and Lunch room, where it seems to work well.  It is no longer limited to just one day, nor just to lunchtime.
The keynote speaker, Tony Fadell (billed at the inventor of the iPod), was announced just ahead of the conference.  Yet, SolidWorks World still managed to have a worthy surprize speaker, Mike Rowe of Dirty Jobs!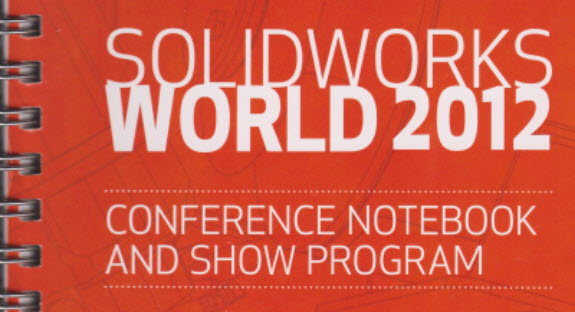 When looking through the Conference Notebook and Show Program, I discovered that the list of Breakout Sessions started with one of my presentations, Advanced Customization Techniques in SolidWorks within the CAD Admin category.  Ironically, this session was scheduled in the last timeslot of the conference, on Wednesday at  2:45pm.  Of course, there were 214 total sessions spread across 11 timeslots.   I'm not 100% sure, but I believe that's also a record.