My previous article about C.V., resumes and LinkedIn profile covered general information about LinkedIn profile. But, now let's look closer at your LinkedIn profile and how not to overload it with certificates of completion.
LinkedIn Learning and other learning platforms offer many courses on a variety of topics, from Business to Photography. That's great. However, that can also be daunting when showing off completion of career related courses on your LinkedIn profile under Licenses & certifications section. If you complete a couple of courses, no big deal. However, if you complete dozens of courses, the certificates of completion will dominate your LinkedIn profile. This can diminish visibility of certificates of accomplishment, such as your CSWE, and important career enhancing licenses.
In the past, LinkedIn allowed you to reorder your certificates. You were able to place the most important certificates at the top of the the Licenses & certifications section. Unfortunately, due to revamping of the LinkedIn profile user-interface some time ago, this ability was removed. The current interface imposes a date-based list within Licenses & certifications section.
Flood of Certificates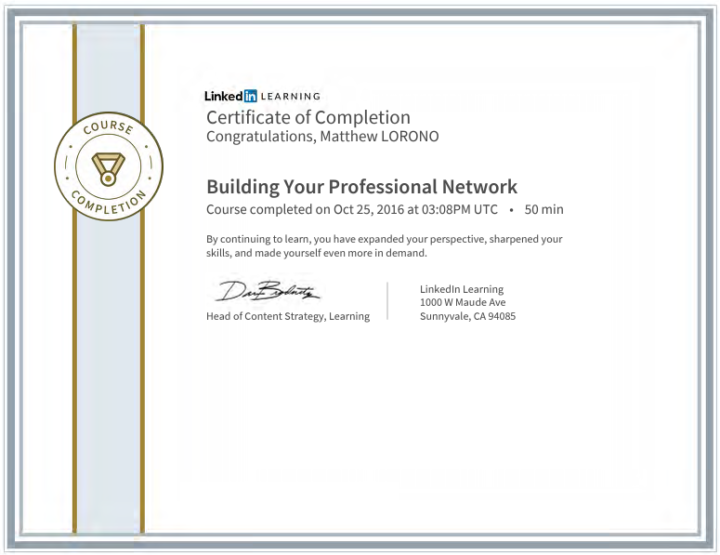 How does one mitigate the flood of career related certificates of completion without dominating your LinkedIn profile? You could be very selective as to which certifications you include. You could also start your own website where you list all of your certificates, with a link from your LinkedIn profile. However, if you really want to show your training results directly on your profile, there's another couple of options that may work for you.
Learning Paths
On LinkedIn Learning, Learning Paths are groups of courses that are combined for a particular topic-specific training goal. When you complete the Learning Path, you get a special single certificate of completion for the entire training path.
However, if you cannot find a learning path for your role or training goals, you can create your own, with a catch.
Leverage LinkedIn Learning Collections
LinkedIn Learning allows you to create Collections for your personal use. A Collection folder allows you group saved courses. For example, you can create a collection called "Business Leadership". Then, peruse the library of LinkedIn Learning in the Business category and add 5 to 10 closely related courses about leadership in business into your Business Leadership collection.
Once you build your collection, it's time to complete your courses. As you complete each course, you will earn a Certificate of Completion. However, do not download individual certificates of completion right away. Wait until you complete the whole collection. LinkedIn Learning has a bad habit of redesigning their certificates frequently. If you take 12 months to complete your collection, the style of certificate could change. To avoid this issue, download your certificates at one time when you've completed the last course in your collection.
Add your Collection to your Profile
Once you've completed all of the courses in your collection, use a desktop computer with Adobe Acrobat Pro or other other application that allows you to edit PDF files.
Download the individual certificates for all of the courses into a special location on your harddrive.
Use Acrobat (or other PDF editor) to combine all the certificates' PDFs into one PDF.
Upload this combined PDF to your Google Drive or similar cloud storage (where you can allow public access to the file).
Now you are ready to add your combine certificates to your LinkedIn profile's Licenses & certifications section.
While you are logged into your LinkedIn profile, goto your Licenses & certifications section.
If it doesn't exist yet, you can add it using the Add Profile Section button near the top of your profile page.
Use the + button in the section to add your new entry.
Create a title in the Name field that briefly summarizes the collection, then include a keyword from each of the certificates, like "Business Leadership: Speaking, Confident Communication, Collaboration, Gaining buying from other Managers, Negotiations, Leading by Example" There is a limit on the number of characters within the Name field, so be as brief as possible. You may wish to add up the total time of all the courses and include that at the end of the Name field as well, like "[8hrs 25mins]".
In the Issuing Organization, enter the name of the organization that issued the certificates, like LinkedIn Learning.
In the Issue Date fields, add the month and year of the most recently completed certificate.
Ignore Expiration Date fields.
In the Credential ID field, add the credential number from your most recently completed certificate.
In the Credential Link URL field, add the URL for your combined PDF.
Save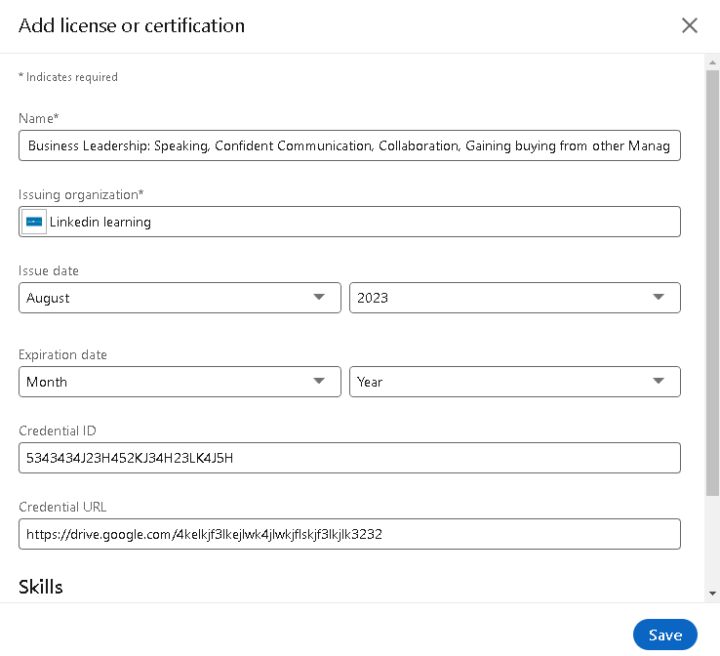 Now review your entry from the LinkedIn profile page to make sure it matches your desired intent. Check the link to your certifications PDF to make sure it works. Below is an image example from my own profile. If you click on the image, it will take you to my combined certificates PDF.

Rinse and repeat for any other collections you wish to complete and show.
Now, if you are on a learning platform that has courses that are longer than one week (40 hours) or have grade exams, you may wish to consider putting such courses in the Education and Courses sections of your LinkedIn profile.