One of the unexpected weaknesses in SolidWorks is that there is no External Thread feature.  For years, SolidWorks has had the Hole Wizard and related functionality for various types of holes, including threads.  But there is [was] no feature for creating external threads.  I've always been baffled by this.
[All this has changed as of SOLIDWORKS 2022 with the release of the new Stud Wizard tool!  The remainder of this article will be about my impressions before Stud Wizard tool from the original publish date.  I will italicize outdated statements below.  A new article will be posted at some point to review the new tool.]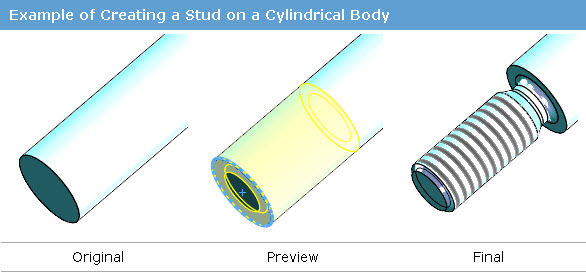 So, when I saw that SolidWorks 2010 was improving the Cosmetic Thread annotation to allow the user to quickly choose a thread size from one of the thread standards (ANSI, ISO, etc), I had a brief glimmer of hope.  I found out, this is one of those enhancements that is just too little, too late.  All this new enhancement does is pull values from the Hole Wizard to add a Cosmetic Thread annotation.  If an external thread is desired, the user is still left with having to create the OD of the thread as a separate feature.
Sure, one may not expect an annotation to make a feature.  It just seems like an opportunity was missed.  Instead of just having the Cosmetic Thread annotation read from the standards, SolidWorks should have included an External Thread feature.
In my view, this feature should work in several ways.
Allow the user to select an OD upon which the External Thread will be cut.
Or, allow the user to select a flat face from which the External Thread will extend.
Don't require a precondition.  Allow the user to select their method within the workflow of External Thread command.
Have the External Thread feature work the same way as Hole Wizard.  The helix of the thread is not modelled, but have several modelling and annotation options available (model to the ID or OD, and choice to use cosmetic thread).
Although the addition of the standards lookup within the Cosmetic Thread annotation is welcome, SolidWorks should fully support External Threads as an actual feature.  I created an ER for this topic this week, and invite others to do so as well.
[To see information about the new Stud Wizard (that works pretty much as I laid out above), see the What's New for SOLIDWORKS 2022.  For more information, you can check out the SOLIDWORKS 2022 Help File articles about Stud Wizard.]