I was recently interviewed by Entertainment Engineering, an online magazine that covers technologies used in many types of entertainment devices and events such as movies, concerts, theme and amusement parks, electronic games, etc.  The November 2012 issue focuses on the value of individual contributors and also of teamwork in the design process.  Here's the kicker, I'm quoted in the issue's editorial article along side the great Steve Wozniak.  Kinda cool.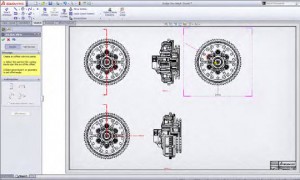 The article for which I was specifically interviewed is called Teamwork Improves Section-View Options in SolidWorks 2013, which leads-off a series of interviews with various individuals from all over the engineering discipline.  In my interview, I talk about the new SolidWorks section view functionality (now called Section View Assist) that has a whole new user interface that changes the way section views are created on drawings in CAD.  This includes how I originally developed the concept which was then improved and refined via teamwork within the SolidWorks organization.
Section View Assist replaces the need to first create sketches before being able to create a section view.  Instead, you can directly place cutting line on the original view and have the section view generated automatically.  If you want to use aligned section view, you can add offsets to the cutting line directly in the Section View Assist interface (without the need to draw lines or edit sketches).  Same goes to notch and single offsets.  The new user interface saves time and steps.  The improvement is nearly exponential.  The more complex your cutting line, the quicker you can create it versus old methods using sketches.