The power of SolidWorks Enterprise PDM has given many users streamlined solutions for CAD file management from within the CAD applications.   Enterprise PDM is also capable of managing documents which are not CAD.  Unlike its support for CAD applications, Enterprise PDM interface is not available within other types of applications, such as Microsoft Office.  Office2PDM by Extensible CAD Technologies has changed this.  Office2PDM is an add-in for Microsoft Office
that offers access to Enterprise PDM functions within Word, Excel, PowerPoint and even Outlook.  I recently got a chance to see a demonstration of Office2PDM.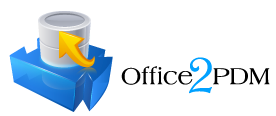 With Enterprise PDM, beginning a change to a MS Office document usually involves closing the Office application (or at least closing the document to be changed), opening the standalone Enterprise PDM application, navigating the vault to the location of the document and then reopening the document from the vault.  Office2PDM allows this to occur within the MS Office application.  A side pane includes information about the MS Office document's local version, revision, status and workflow.  Many Enterprise PDM functions are also available, including access to any version of the document.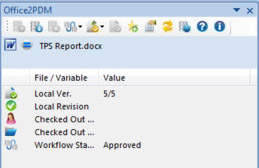 Enterprise PDM vault functions are also accessible from the menu ribbon within each MS Office application.

Additionally, each document's data card is also accessible from within the MS Office application.
Within MS Outlook, Office2PDM includes a lite version of the Enterprise PDM Dashboard.  This add-in is not limited to documents handled via Office2PDM.  It shows information about all documents in the vault.  One example for its use may be a manager who wishes to see what documents are currently in a workflow.  Also, reports about document status may be generated and emailed without the use of an Enterprise PDM license.
Speaking of licenses, for each user of Office2PDM, one Enterprise PDM Contributor level (or above) license is also required.  However, this license is only used temporarily when specific tasks are underway.  This helps keep Enterprise PDM licenses free and readily shared among more users.
For all this functionality, the price per Office2PDM license seems like a good value.  For 15 concurrent licenses, its at about $200 per user for the first year; maintenance each year after would be under $50 per license.
If a company wants to leverage their Enterprise PDM install to cover non-CAD documents, Office2PDM appears to be a safe bet to save money.  It will streamline use of the Enterprise PDM vault for MS Office documents.  It may also allow small companies to put off investment into bloated PLM applications until a later time.  Use of Office2PDM in a larger company may allow its Engineering Department to control their internal documents, such as test protocols, procedures, and reports without getting tangled up in the corporate PLM.  Though Office2PDM isn't for all situations or customers, companies that can use it will benefit.