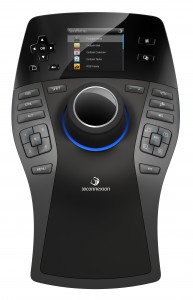 What better way is there for me to show my appreciation to SolidWorks Legion readers than to give away free stuff!  3Dconnexion gives away new 3D mice from time to time to raise awareness of their products.  This month, they have offered to give a SpacePilot PRO to the first place winner of the SolidWorks Legion April 2011 contest.  In addition, they have offered to give a new SpaceNavigator to the second place winner.  Of course, I'm running this contest to raise awareness of SolidWorks Legion.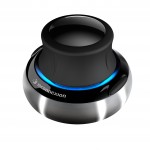 To enter the contest, send a Twitter Direct Message to @fcsuper with the following phrase "I want my 3D mouse" and include your first and last name.  If @fcsuper is not currently following your Twitter account, leave a comment on this article (below) prior to April 24, 2011 to ask me to follow you.  Otherwise, use the alternative entry method by sending an email to buzyperson@gmail.com with the "I want my 3D mouse" phrase and your name in the email subject.  Limit is one entry per person.  Only the first entry by an entrant is eligible.  The deadline to entry is April 30, 2011 5:00PM Pacific Time.   No entries will be accepted after that time.  It is each entrant's responsibility to ensure their own ability to use Twitter or email in order to entry this contest. Unfortunately, due to restrictions established by 3DConnexion, only residents of the United States of America are eligible to win.
Additional rules and conditions are as follows.  I will use the free services of RANDOM.ORG to randomly list the entrants of the contest.  The first person on the random list wins the first place; and the second person wins the second place.  Winning placement is for this contest only.  There is no value associated with winning placement.  The prizes are offered by 3DConnexion to the first and second place winners as a matter of their own choice to do so.  3DConnexion is wholly responsible for the issuance of the prizes and their value.  The winners of this contest will be notified at some time following the contest deadline.  Notification will be in the same manner of their entry .  Winners are responsible for their ability to receive such notification.  Logitech and any representatives of SolidWorks Legion are not responsible for service interruption by Twitter, any ISPs, or any other service that may cause an entry or winning notification to not be received.  Winners must respond to the notification with their mailing address (no P.O. Boxes) within 2 weeks from the time that the notification is sent.  If a winner does not respond with the required information within the allotted time, regardless to the reason, they forfeit their winning place and associated prize. The winning place will then move to the next person on the random list.  No person may win more than one prize.  For example, if the first place winner forfeits, then the second person of the random list becomes the first place winner, and the next person after that becomes the second place winner.  After the mailing address information from both winners is received, that information will be forwarded to a representative of 3DConnexion.  Again, the prizes are being given directly from 3DConnexion and they are responsible for the items given as prizes, and for the shipment of the items to the winners.  At no time will any representative of SolidWorks Legion be in possession of prizes nor responsible for any value of the prizes.  No person that is currently a member of the SolidWorks Legion (has directly posted articles on this blog) is eligible to win.  Dassault Systemes and Logitech employees and their families are also not eligible to win.  Any attempt by any individual to game contest rules for unfair advantage or to act in a way that is not in the spirit of this contest will forfeit their entry and any other stakes in this contest.  By entering this contest, the entrant agrees to hold any representative of SolidWorks Legion and Logitech free of any liability in any manner related to this contest.  Also, the entrant agrees to accept and follow all contest rules and accept my decisions regarding this contest as final.  Each person that enters this contest is responsible for their own ability to use the prize if they win.  Chances of winning will be determined by the total number of entrants.