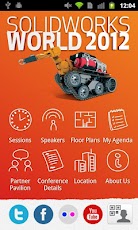 SolidWorks World 2012 has several high quality applications for various devices.  SolidWorks World 2012 is available for the iPhone and the iPad on the iTunes store, and for Android devices on the Android Market.  (At SolidWorks World 2011, the mobile application was only available for the iPhone.)  The 2012 version is loaded with practically all the information you'll need to navigate the conference.
Full conference schedule
Log on to your SolidWorks World 2012 attendee account
All sessions, including descriptions, maps of how to get to the assigned room, link to speaker's bio, and the ability to add the session to your agenda
All speakers and their bios
Floor maps for each level
Partner Pavilion directory, map, and other information
General conference information, such as overview, hours, food, and special event
Location of important points of interest
Info about Dassault Systemes, including information other mobile applications
Additionally, there are links to SolidWorks related accounts on Twitter (tweet updates on the #sww12 hashtag), Facebook (SolidWorks World page, [not the SWW12 page]), Flickr (SolidWorks photostream including SolidWorks World 2012 group with uploaded photos by SolidWorks and attendees) and Youtube (SolidWorks related videos).
As a bonus, there's a feature to scan QR codes of badges from other attendees to start building your contact list.