One more notable What's New item from SolidWorks 2012 is the new Search Commands tool.  Search Commands in the Search corner that allows you to quickly find a command by typing its name.

Simply start typing a common name in the Search Commands field and you will be immediately presented with possible matching commands.  Not only that, if you click on the eye-glasses next to the command name, SolidWorks will automatically take you on a step-by-step path to the location of the command within the menu or toolbar interface.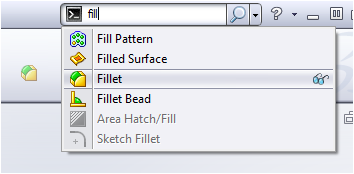 But there's more.  
When searching for a command:
Click and hold on command from dropdown.
Drag the command to any visible toolbar or CommandManager.
Release mouse button to drop command at that location.
That's right, Search Commands allows you to quickly add a found command to any toolbar within your user interface so you can keep at a favorite location for future use.
The customization doesn't stop there.   Multiple-letter shortcuts can be added to Search Commands!  This can be done at Tools pulldown>Customize…>Keyboard tab in the Search Shortcut column.

As a bonus to even all of that, Search Commands is automatically accessible when the you strike the "S" key to bring up the Shortcut Bar.  Whenever the Shortcut Bar is up, you can just start typing!  Your entry appears in the Search Commands field and automatically initiates your command search.
 This new tool helps new and occasional users find commands that they may never have used before or may have forgotten about because they don't use the SolidWorks every day.  Additionally, it can help experience users find commands on unfamiliar workstations, since many users like to customize toolbar layouts.