Have you ever noticed there is a gap on the corners of your lines when you have model edges or sketch lines?  You will usually notice this when you try to use very thick lines on a SOLIDWORKS drawing.  Why are you seeing this gap?  Welp, as with most visual display characteristics in SOLIDWORKS, there is a setting for that.  You actually have three options for corner appearance: Flat (default), Square and Round.  This is found in your drawing's document properties at Tools pulldown>Options…>Document Properties>Line Font on a setting called End cap style.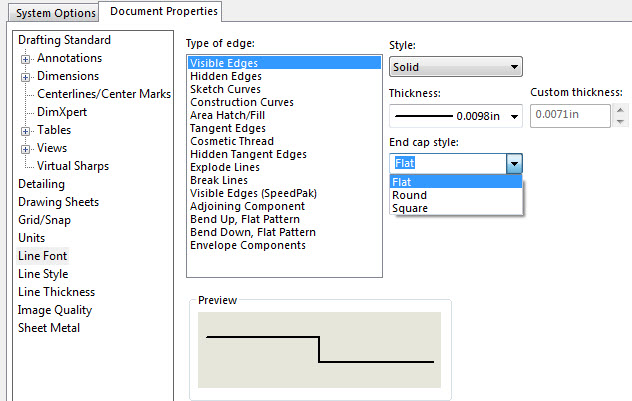 Flat is the default option and normally works fine for most cases.  However, if you are using much thicker lines, you can utilize one of the other two options to get the look you need.  It is important to note that this setting applies individually to each of type of edges, so you can use a different end cap style for sketches than you use for visual edges.
Square:

Round:
Did you enjoy this post? Why not leave a comment below and continue the conversation, or subscribe to my feed and get articles like this delivered automatically to your feed reader.