Ctopher Custom Material Database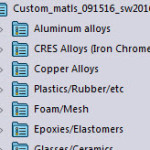 Author: Chris Saller, et al.
Author's website: ctophers home
Ctopher's Custom Materials Database allows you to add many materials to SOLIDWORKS which are not currently included as part of the default installation.  Materials range from ceramics, metal alloys, plastics, crystals, and even magnets.  Current version was created using SOLIDWORKS 2016.
1.To use, place custom_matls_091516_sw2016.sldmat file into C:\ProgramData\SOLIDWORKS\SOLIDWORKS 201x\Custom Materials folder.
2.Start SOLIDWORKS and open any part file.
3.In the Feature Tree, right click on Materials and then select Edit Materials.  "Custom_matls_091516" folder will be on your material list.
4.Click on desired subfolder, such as Copper Alloys.
5.Click on desired material to view properties.
6.Click on Apply to apply that material to your part.
7.Click on Close to return to your part.