Breakout Sessions
SolidWorks World 2012 is only a month away!  It's already shaping up to be a great convention!  The breakout sessions schedule is filled with great topics.  These are a small sample of what is on the schedule as of January 1, 2012 (schedule is subject to change):
IAW ASME Y14.5 – Use It Only if You Know It by Rustin Webster, to provide "fundamental rules for creating drawings with IAW ASME 14.5M standards."
Advanced Sheet Metal Techniques by Jeff Parker, to teach "advanced techniques to create complicated, functional sheetmetal parts and, explore what types of parts can be flattened."
EPDM – Enabling Data Exchange Between SolidWorks and SAP/ERP by Kyle Kraudy, to demonstrate a solution for "data exchange between SolidWorks Enterprise PDM and SAP."
Advanced Weldment Techniques – In Large Scale Live Theater by Ange Horst, to "discover how a live theater production takes shape through SolidWorks."
Utilizing Mold Tools and Other Techniques for Better Mold Design by Andy Hall, to "learn how to use the automated mold tools for your molded parts"
Better, Faster Sketching by Tyler Beck, to "learn a common sense approach to proper sketching and troubleshooting."
Session catagories
The general topics covered by Breakout and Hands-on sessions include a wide variety of areas.
CSWP/CSWE Event
CSWP and CSWE attendees will be treated to a visit to a party on board the  U.S.S. Midway Aircraft Carrier Museum in San Diego Bay.  Mike Puckett bills it as " three hours of food, drinks, entertainment, and networking," but I just call it fun!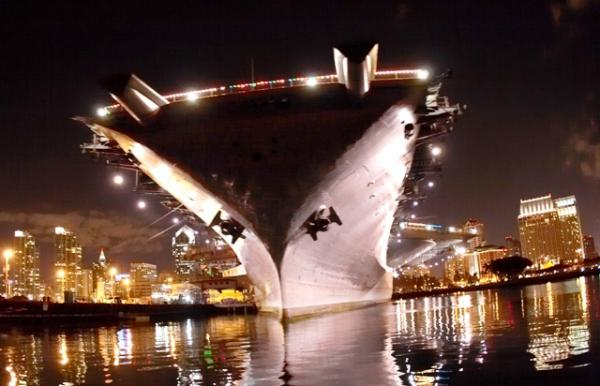 I've been to San Diego often, but never had a chance to check out this historic landmark (or is that "water"mark?).  I'm looking forward to this event.
Special Event
The special event for all Full Conference Pass attendees is a repeat of 2008!  From the SolidWorks World 2012 website:
Back by popular demand – you're invited to the Gaslamp Block Party! The SolidWorks World 2012 special event will take place in San Diego's historic Gaslamp Quarter, Tuesday evening, February 14, 2012. Join us for unlimited food and drinks along 5th Avenue. Enjoy the unique restaurants, nightclubs, and shops, as well as live music….and plenty of surprises.
Partner Pavilion
The Partner Pavilion is a great place to meet tons of SolidWorks partners, checkout new technology, and three areas that showcase many advanced products created using SolidWorks products.
Registration
There is still time to register before the Early Bird special expires on January 20, 2012, $100 off the fee of the Full Conference Pass.
As a matter of a discloser reminder, the author of this article is a DS SolidWorks employee, though this article does not represent an official work of DS SolidWorks nor was it reviewed by DS SolidWorks.  Please note the FTC 16 CRF Part 255 notice in the right menu of this website for further details.