SolidWorks World 2011 will be held in San Antonio, TX, from Jan 23 to Jan 26, 2011.  To highlight this new location, I'm going to give a few facts about this historic city.
Facts
Named for Portuguese Saint Anthony of Padua.
On average, it has three hundred days of sunshine annually and an average temperature of 70 degrees.
Average January temperature is 62 degrees.
More than 26 million people visit San Antonio each year.

Tower of the Americas

It is Texas' second-largest city and the seventh largest U.S. city
It is one of the fastest-growing cities in America.
There were 2,808.5 persons per square mile in 2000.
Almost 60%  residents are of Hispanic or Latin heritage.
It is site of the Battle of the Alamo in 1836.
San Antonio Zoo is the third largest in the U.S., with over 3,500 animals including 230 endangered species.
It is the home of the NBA's San Antonio Spurs
Tommy Lee Jones resides in Terrell Hills, TX, a town near San Antonio
Robert Cade, inventor of Gatorade, was from San Antonio
Monterrey, Mexico is a sister city
Major attractions
The San Antonio Botanical Gardens and Conservatory
Marion Koogler McNay Art Museum
El Mercado (old Mexican marketplace)
Aztec On The River (restored historic 1926 movie palace)
Enchanted Springs Ranch (authentic old west 19th-century town used for westerns)
The San Antonio Zoo
SeaWorld San Antonio
Six Flags Fiesta Texas
Buckhorn Saloon & Museum
Casa Navarro State Historical Park
San Antonio Missions National Historical Park
Japanese Tea Gardens
Brackenridge Park
Tower of the Americas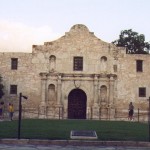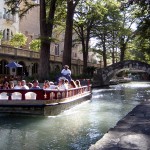 .
.
.
.
.
.
.
.
I'm looking forward to having a great time in San Antonio, TX!