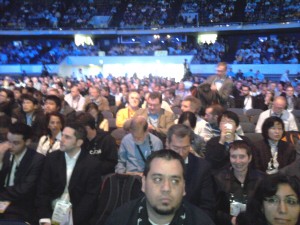 With all the news and promotion of SolidWorks, Enovia and cloud computing, some other announcements might've gotten lost in the background.
Attendance
SolidWorks World 2010 had a higher than expected attendance of over 5000 people.  This despite a cut of the number of SolidWorks employees who attended.
Certified users
There are now over 25,000 certified SolidWorks users.  This includes both Certified SolidWorks Associates (CSWA) and Certified SolidWorks Professionals (CSWP).
The new weldment exam was promoted.  Additionally, a new level of achievement was announced, called Certified SolidWorks Expert (CSWE).  This new certification level will require several other advanced certifications before being eligible to earn this recognition. More information about this exam may be found at its new webpage.

Shop online
Another interesting announcement was that of a new online SolidWorks store.  There's not a whole lot of stuff there right now.  It's still worth at least a look.
Quotation
A comment about SolidWorks 2010 made by some guy named Matt Lorono was quoted by Jeff Ray during the General Session on Monday.
There's something different about SolidWorks 2010.  It's hard to put my finger on it.  It just seems to be a little …oh I don't know… snappier or peppier.
Profiled companies
Because so much time was spent talking about cloud computing, there was less focus on customer success stories this year.  Skyventure, Cummfy Banana, Infinite Z, and Canon Mixed Reality where all profiled.  All of them are very interesting, if not outright entertaining.
SWUGN Awards
User Group of the Year – New Hampshire SolidWorks User Group, award accepted by their leader, Cindy Berend
User Group Leader of the Year – Anne Yust, leader of Twin Cities Simulation User Group
SWUGN Lifetime Achievement Award – Rodney Hall, of Catawba Valley SolidWorks User Group