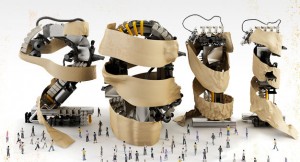 The launch of SolidWorks 2011 is only days away.  SolidWorks Corp even made this countdown website to celebrate the impending release.  It isn't obvious what will happen when the countdown is done.  An unwrapping of some sort?
As per the new tradition (starting last year), SolidWorks Corp will launch the new version of SolidWorks from their headquarters in Concord, MA.  The official release date was a little confused last year.  However, this year it's quite obvious (just count up from the countdown).
One enhancement that didn't make it into SolidWorks 2011 is discussed on the SolidWorks Forum.  That enhancement would have been a Feature/Model Lock or Freeze.  According to Mark Gibson of SolidWorks,
Unfortunately, we have determined that even with the limitations discussed earlier, we're not going to be able to deliver the Freeze functionality for SolidWorks 2011 due to quality concerns.
That sucks! However, it is wise to avoid adding functionality before it is ready for use.
I cannot discuss enhancements actually included in the 2011 version yet.  However, expect plenty of articles after the release date for both SolidWorks and Enterprise PDM.