I've first attended SolidWorks World in 2008 in San Diego, CA as a customer.  At SolidWorks World 2009 and 2010, I attended as a member of the Press.  In 2010, I participated on the panel in the Stump the Chumps II breakout session.  My short debut as a co-presenter was less than glorious but not terribly horrible.
At SolidWorks World 2011 in San Antonio, TX, I will be presenting my first breakout session, Establishing CAD standards within SolidWorks environment.  The session will be on Monday 24 at 2:45PM (local time), scheduled in room 202 of the convention center.  (All sessions may be viewed at the SolidWorks World 2011 website.)  My breakout session is one hour long and will discuss the general areas that require documentation which are essential for establishing company CAD standards within an engineering environment that utilizes SolidWorks.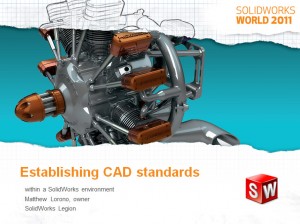 This session will cover as much as I can in one hour.  There will be a discussion on procedure writing techniques, important considerations when establishing standards, and the types of documents that should be written.  I will offer some specific advice, but the breakout session will focus on the big picture by providing a general road map for creating and maintaining your own CAD standards.
Monday is a busy day for many attendees.  Even still, I'm hopefully that many will join me for my breakout session.