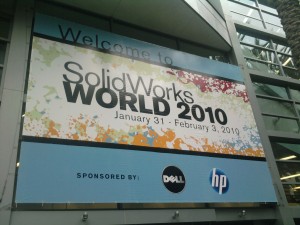 The buzzword at SolidWorks World 2010 was "cloud".  There was a running gag at the convention, take a shoot of "espresso" (or whatever else your mind can imagine) every time someone uttered the word "cloud" in a presentation or speech.  If this game was real, we'd all be dead from alcohol poisoning, er I mean caffeine overdose.  All this talk about cloud computing involves creating a new SolidWorks branded interface that uses Enovia technology as its backbone.
According to Bernard Charles, CEO of Dassault Systemes, and Jeff Ray, CEO of Dassault Systemes SolidWorks Corporation, this marriage of SolidWorks with Enovia will bring new functionality, capabilities, and advantages to SolidWorks customers.  The first product of this new approach is the brand SolidWorks PLM.  The first release of a SolidWorks PLM product will be later this year, according Ray.  I'm not sure of the exact name for that first product, but they did use SolidWorks Product Data Sharing at one point.
SolidWorks Product Data Sharing
It's my impression (at this point in time) that the initial release of SolidWorks Product Data Sharing will not have the full functionality that many users need.  A demonstration showed some of its capabilities, which are very rudimentary when compared to Enterprise PDM or SmarTeam.  The main focus for the new application appears to be an advanced communication tool, and not an actual functioning PDM or PLM.
The user interface will take on two forms: web client and SolidWorks add-in.  In the add-in, users may upload files from a window pane within SolidWorks.  They may add comments.  If more than one person is logged-in, the comments can function as a real-time chat. Functionality will allow users to invite other non-SolidWorks users via the web client version.  Files will have previews, including assembly trees that graphically layout relationships between files.  In the web client, 3D viewing of files will include on-screen commenting (redlining) within the view.
Security of the Cloud
Jeff Ray claims the workspace of the new cloud applications will be secure.  In fact, Jon Hirshtick is adamant in his belief that cloud computing is far more secure than having data on local hard drives.  This doesn't come from opinionation.  It actually comes from experience.  SolidWorks is currently fighting a person who stole the source code for a SolidWorks application and is trying to sell it.  The person was a former employee in India who stole the code by simply copying from his hard drive and walking out with it one day.  Having this data on a cloud network with encrypted access may've prevented this theft.
Going the course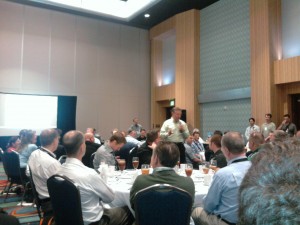 Charles and Ray pounded the pavement at SolidWorks World 2010 to get their message across.  Despite any flak that Dassault Systemes gets for their new direction, they are going to stay the course.  Enovia V6 is the future of Dassault Systemes.  Bringing SolidWorks in line with that future is a priority.  Charles stated that Dassault Systemes is not divided into SolidWorks and Enovia V5, it is united as V6.
I asked Ray a question about which form the new products will take.  The answer, for now, was only that they will offer their customers the choice to remain with their current system or use the new system.  In my view, this is corporate speak for "its going to replace what is currently on the market and although they will not leave customers high and dry, they will likely begin to reduce focus to the current system."  But I could be wrong.
Concerns?
Now, in this article, I'm simply reporting on the new direction of SolidWorks as presented to everyone at SolidWorks World 2010.  I do have very real concerns about this new approach, which I will cover in a separate editorial (hopefully within a few days).