In the SolidWorks 2010 Beta 2, there was only one entry in the What's New file under Parts.  It is a rather modest statement regarding the fact that each body within a multibody part can now be assigned its own material.
You can assign different materials to individual bodies in a multibody part. The material assignments are used by mass properties, drawing section views, and SolidWorks Simulation.
That's it!  That's all the Beta 2 What's New file said.  It didn't even say how to add material to different bodies!  (Beta 3 did add some information, but not a lot.)  Even the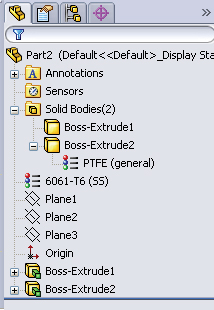 embellishment regarding where the material information is used doesn't do this new capability any justice.  Think about it!  Are you kidding me?!  SolidWorks now allows us to give a different material to each body within a multibody part!  Composites can now have material information included in the part file! No more guessing, estimating, averaging out properties!  No more funky assemblies to try to get around the previous limitation!  For example, the user can now model a part and its coating in one file to accurately run FEA simulations!
OK, so how does one add material to each of the bodies within a multibody part?  A general material can still be specified in the same way as before.  RMB click on the Material heading within the FeatureManager of the part, then choose Edit Material.  This will assign a material to the overall part.  The steps are just a little different to assign material to a specific body. LMB click on the Solid Bodies folder.  RMB click on the body which will have the different material, then pick the material for that body.  When complete, the Solid Body will have its material listed underneath within the Solid Bodies folder.