Ever since the addition of the slot tool, SolidWorks almost seems like a whole new software for the those who design machined parts.   Adding the functionality was one over due accomplishment.   Another accomplishment was making sure SolidWorks supports standard methods for dimensioning slots.
ASME Y14.5M-1994 paragraph 1.8.10 and figure 1-35 provide three methods for the dimensioning of slots, with no stipulation regarding which is preferred for particular scenarios.   (Note: all three methods require the insertion of a non-dimensioned "2X R" note pointing at one of the slot's end radii.)
In one fashion or another, SolidWorks 2009 supports all three methods, though it does have a default for both simple slots and arc slots.  For brevity, this article will only cover simple slots.
The first method (a) provides the width and the distance between the end radii center points.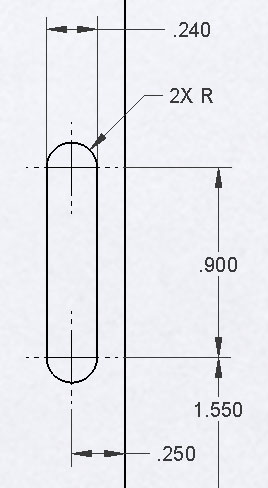 Method (a)
The second method (b) is the easiest and simplest to dimension.  Simply state width and overall length, and use an arrow to point to the slot's object line.  Though originally reserved for punching operations, ASME Y14.5M-1994 allows for the use of this method on any simple slot.  When using hole wizard to dimension a slot in SolidWorks 2009 or higher, this is the type of dimension that is inserted.  (A future article will address how to simulate this method in SolidWorks 2008 or previous.)

Method (b)
The third method (c)  provides the width and overall length of the slot in linear dimensions.  This method is preferred if the slot has positional tolerances that use the boundary method (see ASME Y14.5M-1994 figure 5-47).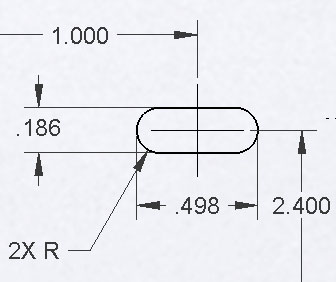 Method (c)
Side note: of the three choices, the ASME board almost left out (a) and (b).  The original release draft of ASME Y14.5M-(1994) only shows method (c) in figure 1-35.