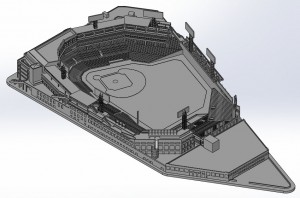 Objet and Rob Rodriguez teamed up recently to produce a 3D model and a 3D print of the famous Fenway Park in honor of its 100th anniversary.  Rodriguez talks about this challenging task in a recent posting on his blog, Axis Cad Solutions Blog,
I was approached by Objet to create a solid model of Fenway Park for the centennial celebration (1912-2012). …Having lived in New England all my life, being a Sox's fan and knowing that Fenway was/is an iconic part of baseball history I'd [couldn't] say, "no".
I'm not a Red Sox fan, but I can see the love New Englanders have for their team and the Fenway Park venue.  For the past month, there's been nonstop chatter about Fenway Park and the idea that this is a "building" year for the Red Sox team.
In Rodriguez' article, you'll find an eDrawings version of the model (very cool), plus links to Objet's article about the 3D printing of the park.