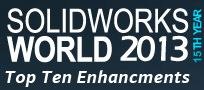 Over 300 Ideas have been submitted for the SolidWorks World 2013 Top Ten list!  It's now time to vote for your favorite enhancements!  If you are a user with a current subscription, you can vote (even if you aren't attending SolidWorks World).  The more users that vote, the better the results will be.  Just sign in once you go to this link: SolidWorks World 2013 Top Ten.  Vote for the items that you want to see in SolidWorks and related products.  Be sure to view the entire list.  There are some gems that were submitted early (near the end of the list) that need your attention.
Tip: to see more Ideas at once, set the number of Ideas per page to be 50 (set in the bottom left corner of each page).
Have fun with it.  Feel free to leave comments on Ideas that particularly interest you.  If you vote down on a particular Idea, please leave a comment explaining your vote to help others understand as many perspectives as possible.