The very much anticipated initial release of eDrawings for Android is now available from the Google Play store.  As with its sibling on the iOS, this inexpensive app is $1.99.  It can view SolidWorks models (.sldprt), assemblies (.sldasm) and drawings (.slddrw).  Of course, it can view eDrawing formats (.edrw, .eprt, .easm).  These files can be loaded from any standard source (email, online clouds, website, etc) including files directly copied in the eDrawings folder on your device.
Overview
This initial release of eDrawings for Andriod represents the first time that you can inexpensively open and view native SolidWorks files on an Andriod device.  Not just on tablets, but pretty much any device with 4.0 or higher Andriod OS.  I have eDrawings running on my ancient Galaxy S2 smartphone.  All images in this article are direct screenshoots of eDrawings from my phone.
As with other mobile version releases of eDrawings, this app provides familiar functionality.  You can now access and use 3D CAD models and 2D drawings anywhere you can take your Android device!  This provides a great tool to communicate 3D data with co-workers on the road, or quickly reference a drawing without lugging around a laptop (or printouts).  This app can be used all the way up and down a supply chain from vendors to end-customers.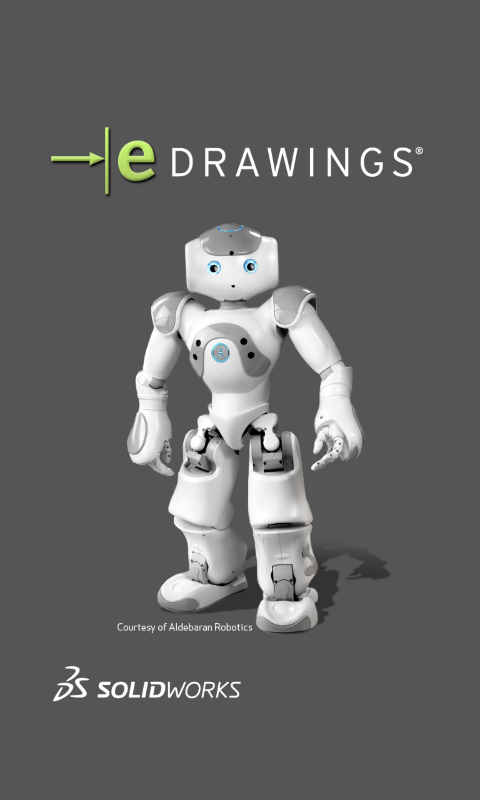 User Experience
Once you launch the app, a list of currently available models and drawings is shown, with thumbnail previews. You can select from the standard selection of Samples or from the files you've uploaded to your device.  As with other mobile releases of eDrawings, the sample files provide greate examples to try out eDrawings functionality.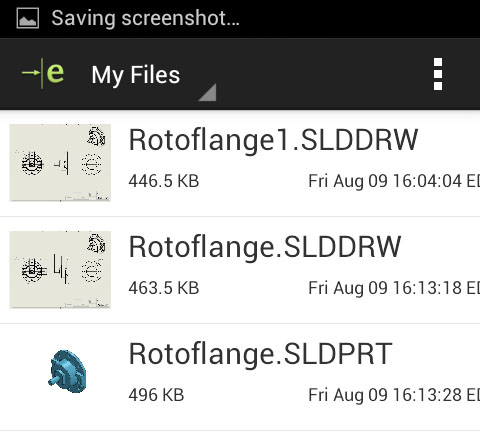 When you open a supported 3D model, you can rotate, pan, zoom in and out, zoom fit (double-tap), and zoom home.  Also, the play button will take on a tour through the standard views of the model.
Usability and Performance
eDrawings for Android is very intuitive for amyone familiar with multitouch screens.  One finger drag rotates the model.  Two fingers initiate a pan.  Pinching two fingers is zoom in and out.  Switching between configurations and sheets is fast using the dropdown menu.
Loading files onto an Android device is even easier than with iOS devices.  You can simply connect your Android device with your computer using a standard USB cable and then copy the files over to the eDrawings folder on your device using Windows explorer (for PCs).
Assemblies
For assemblies, you can highlight an individual component with the options to immediately set to hide, make transparent, isolate and show all.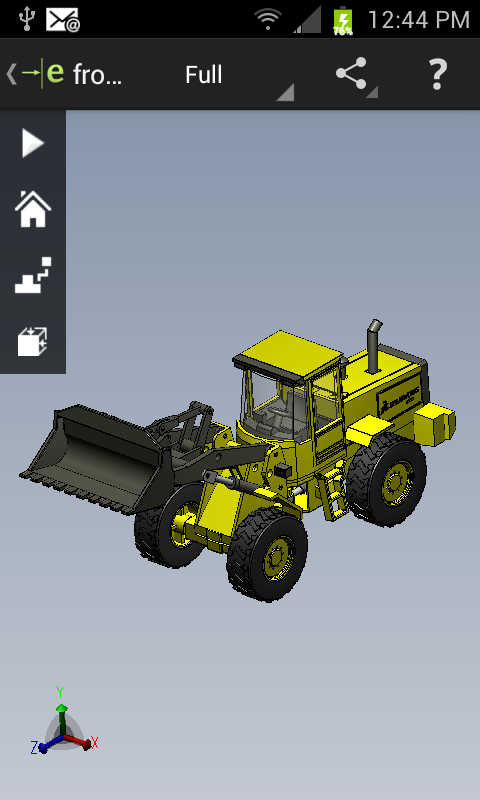 Of course, configurations are supported for eDrawings files, allowing you switch between them with a drop down menu.  And then, what would eDrawings be without the ability to explode assemblies?  I think there is actually some entertainment value to watching assemblies explode out to their individual parts.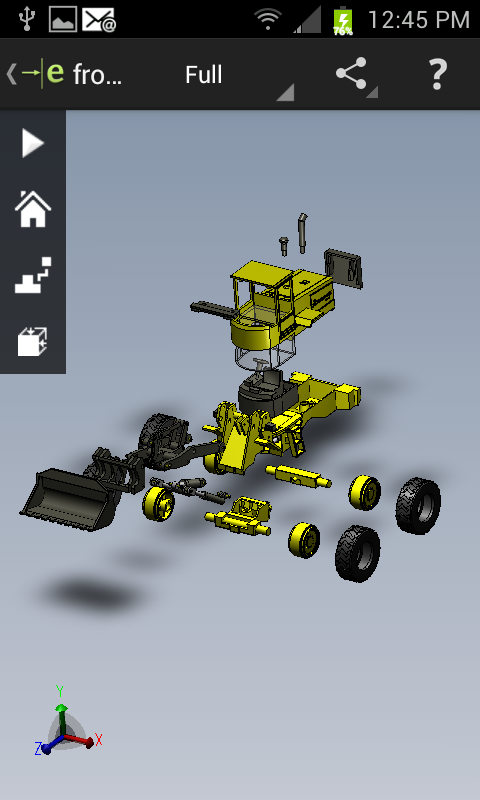 ______________________
Disclaimer – Though this article was not reviewed by SolidWorks, nor its parent company Dassault Systemes nor any other entity, the author of this article is an employee of Dassault Systemes and is internally familiar with eDrawings.  As such, this article should not be understood as being from an uninvolved and neutral third party.
Parts
Zooming methods and standard views are the same as assemblies.  The Play button is also available, as fun as every.   You can also select and highlight individual faces on parts.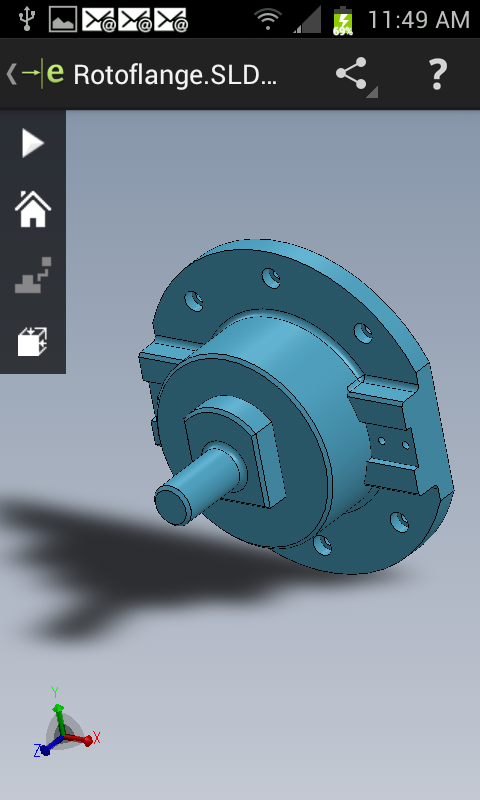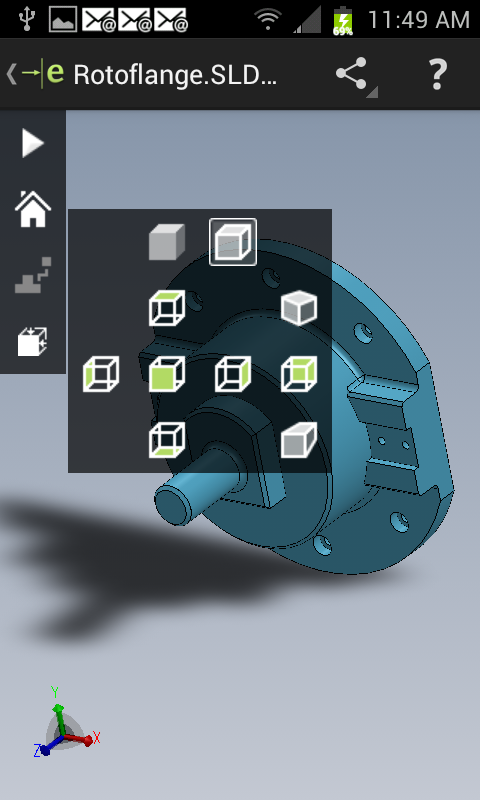 DimXpert dimensions are supported for eDrawings part files (.eprt).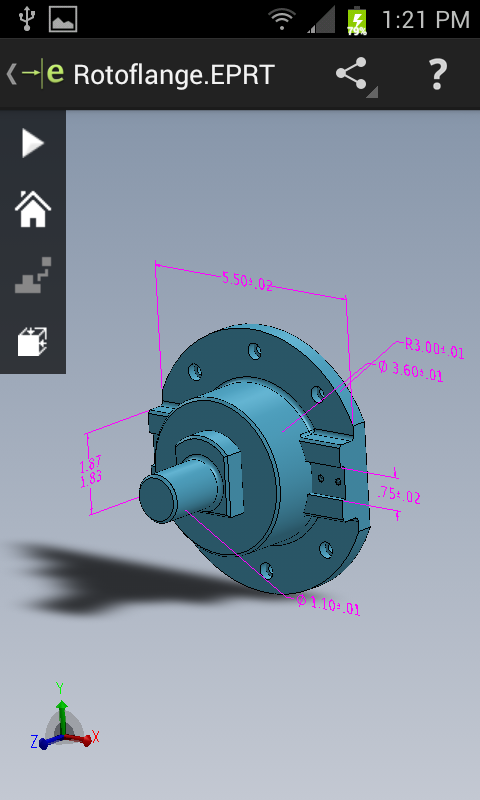 Drawings
Navigation in 2D CAD documents works a little different from assemblies and parts.  Pan, zoom in and out, zoom fit and zoom home are available.  There is logically no ability to rotate a drawing sheet into 3D space.  When Play is used, you will see a slide show of each of the drawing views on the drawing.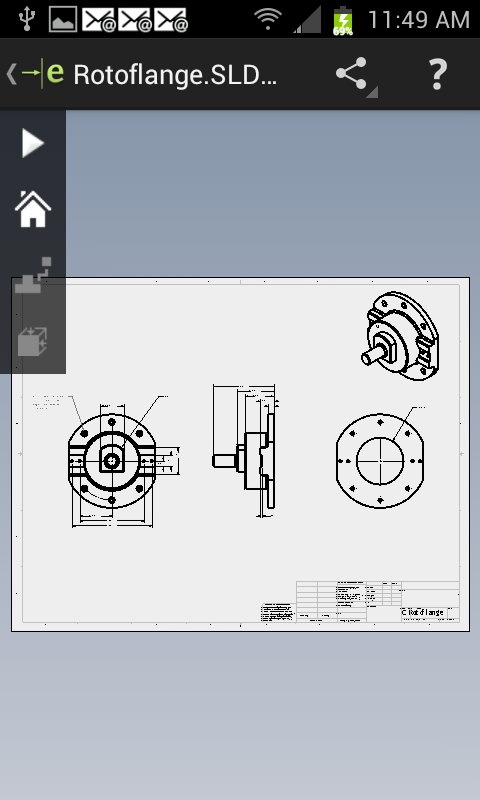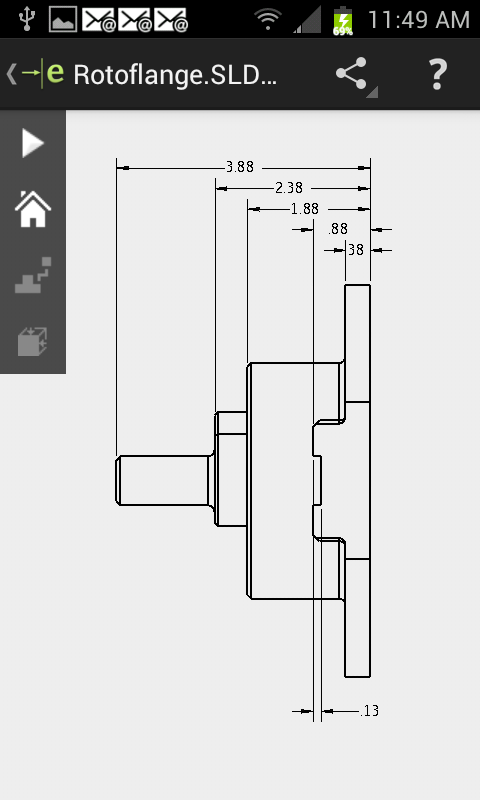 Drawing sheets are also supported from a dropdown menu.
Bottomline
eDrawings for Android has enough functions to immediately make this tool useful for viewing SolidWorks and eDrawings files on Android devices of various types.  The user interface is geared towards the tablet sized devices, but the app works well on smartphones too, being easy to use and intuitive.
eDrawings for Android is available as of August 12, 2013 from the Google Play store here: eDrawings from SolidWorks.  There's already a lot of activity on the Twitter hashtag #edrawings and more specific discussions are welcome on #edrawingsforandroid too.  There is also some additional information found at the SolidWorks eDrawings Mobile website.