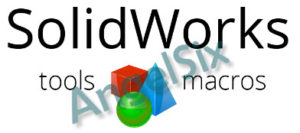 An older resource for many things related to SOLIDWORKS API is AngelSix.  Luke Malpass, founder of AngelSix, has written many SOLDWORKS macros.  He has also written a couple of macros books.
As of last year, many of their macros and books are now available for free on fasetto.  More info is available on AngelSix's SOLIDWORKS page.  The books apply to SOLIDWORKS 2008 and 2009, but much of the information is still relevant now.
AngelSix is also known for BatchProcess.  BatchProcess is available for a 50-day trail.
Another API resource now on AngelSix is SolidDNA, which is a level of API that claims to make SOLIDWORKS API easier to use.  Here's a video tutorial that describes about to use SolidDNA:
Did you enjoy this post? Why not leave a comment below and continue the conversation, or subscribe to my feed and get articles like this delivered automatically to your feed reader.