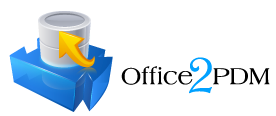 Ever wish Enterprise PDM specifically supported Microsoft Office products?  Well, actually, EPDM already does support the files from Word, Excel, etc.  So, of what value is an application that runs EPDM from within MS Office products?  According to Extensible CAD:
Without Office2PDM, Enterprise PDM users who want to manage their Microsoft Office documents in their PDM vault must close their files and then operate on them in Windows explorer. This can be time consuming and requires extra steps.  Office2PDM provides access to common Enterprise PDM functions as well as timely access to document status information, all without requiring you to open up a separate interface.
There's really not much else for me to say without seeing a demonstration.  I'll follow up on this after SolidWorks World 2010.
Here's some press images of Office2PDM: