Austin, TX has long been on my todo list for work travel. There are a lot of great SOLIDWORKS customers in the Austin region. Come last week, my long awaited plans came to fruition. This was a busy trip.
Visited several customers in both San Antonio and Austin.
Conducted a limited Alpha Test and received a lot of great feedback.
Presented at the local SOLIDWORKS User Group: CTSWUG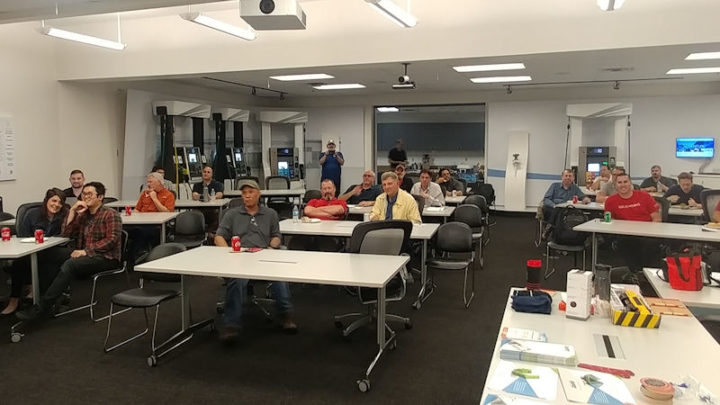 User Group Meeting and Support
My presentation at the user group meeting covered the topic of Model-based Definition in the context of SOLIDWORKS and SOLIDWORKS MBD. It's a topic I've presented many times. (NASWUG, NSWG and SWW17)
Jeremy Browning also presented a lively demonstration that evening on how to model in a manner that utilizes SOLIDWORKS tools with maximum efficiency and resiliency.
Thank you to Nadia Shea and Jeremy Browning for their efforts of support during my visit. Also, thank you to Steve Calvert for his efforts, including the change of the date for their user group meeting to suit my travel.
Also, While in Town
While in town, I was able to indulge local flavor (literally); perhaps a bit too much.
Shrimp and a variety of bruschetta,

Brisket, Ribs, Cole Slaw and Sweet Potate Mash

Ribs, Brisket, Sausage and Corn Casserole

Pork Shoulder, Sausage, Beans and Cole Slaw
There was also a chance to take in a few of the regional sights and sounds from time to time, of course.
Great Trip!
However, the focus of these trips is to interact with SOLIDWORKS customers. This allows us to learn from our users about how we can improvement our products to better suit their needs in future releases. In this regard, this trip was a great success! Thank you to everyone who meet with me and participated in the local SOLIDWORKS events!