Several years ago, I reviewed one of the earliest versions of Template Wizard, published by 3 Dawn Consulting, LLC at SolidWorksTemplates.com.  Template Wizard is an application which fills a gap in SolidWorks functionality by creating the process to automatically generate document templates for drawings, parts and assemblies.  Kevin Van Liere of 3 Dawn Consulting has provided to me a new license of Template Wizard for the purpose of this new review.  This review is my own content without input of others. 
The current version of Template Wizard is refined and more capable.  Template Wizard gives the user the ability to create templates from scratch.  Users may also create drawing templates from AutoCAD generated files.  If the user wishes, they may use it to edit existing SolidWorks drawing templates.
User Interface
Template Wizard is an add-in that runs within the PropertyManager pane inside of SolidWorks.  Selecting settings within the interface is similar to other functions that run within the PropertyManager.  Users create new templates in a 9 step process.  The process starts with a blank drawing sheet and ends with a fully functional templates for drawings, parts and assemblies.  When creating a drawing template, some user interaction with the view pane is required to place objects and anchor points.
Installation
Installation is quick and painless.  Just execute the downloaded install file, then start up SolidWorks.  Template Wizard appears as a pulldown menu.  The user will be prompted to enter a registration code (provided at the time of purchase) the first time before they create a new template.
Workflow
If a user wishes to create new templates, it is recommended that they create a drawing template first.  As mentioned, Template Wizard takes the user through a series of steps.  Once the drawing template is complete, it then allows the user to transfer applicable settings over to new part and assembly templates.
The order of drawing template creation tasks is fairly logical.   The user is prompted at each step:
Drawing size, view projection, standards, units of measure, etc.
Border creation, margins, zones, border layer.  Although Template Wizard does automatically create borders based on user choices, a nice function to include might have been the ability to choose settings that automatically follow standard ISO or ASME borders, based on drawing size.
Title block and custom properties.  Title blocks may be created from existing title blocks or created from scratch using dozens of field blocks.  This step is likely the most complex.
Establish tables and their anchors. This one function by itself may make Template Wizard worth its price.  SolidWorks has anchors that serve as automatic starting points when the user inserts tables onto a drawing.  However, this anchor functionality is somewhat under-documented and hidden.  Template Wizard labels each anchor which allows the user to see where and what they are.
Fonts, bent leader length and tangent edge settings.
Save "Page Design". One thing that I find confusing is the use of alternative terminology in Template Wizard.  A page design means sheet format.
Establish the "next sheet" variable and save "template design". "Next sheet" variable is a quirky SolidWorks setting that establishes the drawing template.  Template Wizard uses this variable in a cleaver way to allow drawing templates to utilized a different sheet format for additional sheets of a multi-sheet drawing.
Create part and assembly templates, and the custom properties file. This reduces the effort of creating part and assembly templates down to a push of a button.
Update Wizard
Though I have not tested this functionality, it is important to note that Template Wizard has a function called Update Wizard.  This tool gives the user the power to update the sheet format of a whole bunch of drawings at one time.  The tool even allows the user to find and replace specific text in the same way!
Purchasing options
Template Wizard is available through the SolidWorksTemplates.com website.  Given the value and time-savings potential of Template Wizard, the price of US$295.00 seems reasonable.  Visa and MasterCard are accepted for immediate delivery of the software license.  Paypal, invoice and check are also excepted.
Findings
Template Wizard was created because SolidWorks does not provide a simple method for template creation.  The process in SolidWorks is not well documented nor easily understood by new or some experienced users.  Template Wizard allows the user to bypass the learning curve by providing powerful tools in a fairly straightforward process.  However, even though Template Wizard is a great tool, it is not completely intuitive.
The user should read Template Wizard's Help file before using it.  Treat the Help file as a tutorial.  The Help file gives the user information they need to make certain choices.  For example, during the Title Block creation step, the user is presented with tons of choices.  Those choices are defined in the Help file under "Pre-Designed Title Blocks" and "Title Block Elements".  I would like to see this information included within the Template Wizard's workflow in the form of a preview window or something similar.
Where Template Wizard excels is in the fact that it breaks down the template creation process into a series of steps.  Many of these steps are wonderfully automated, drastically reducing the time it takes to create a template.  It even changes settings in SolidWorks itself to allow the user more flexibility in how they wish to save and use their new templates.  As a byproduct of its workflow, Template Wizard also serves as an education tool.  It teaches the user about what is needed to make sheet formats and templates in SolidWorks.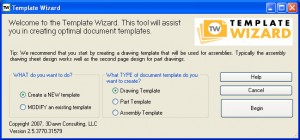 Template Wizard's value comes from the time and effort saved during the creation of SolidWorks templates.   It is not an application that has a high reuse value.   However, I do recommend keeping it installed (but inactive) on SolidWorks.  This will allow the user to make adjustments to their templates over time, as needs change.
Template Wizard is not for that do-it-yourself person whose independent spirit and drive pushes them to create their own template and sheet formats.  It is for the person or company that does not wish to spend a lot time creating, changing or maintaining templates.