3DVia Composer demonstrations have been all the rage at official SolidWorks and VAR events over the past year or so.  I'm getting quite familiar with 3DVia Composer just from the demos (I've never used it).  The more I see it, the more I realize just how much SolidWorks lacks in how it handles assemblies.
The past is the past
At one time, there was a function in SolidWorks that would allow the user to auto-explode their assembly.  The problem with this function is that it never worked well enough to be of much use.  As a result, the auto-explode function is not longer included in SolidWorks.
3DVia does it, so let's improve SolidWorks
In demo after demo of 3DVia Composer, I see a milieu were assemblies are exploded and rearranged with superb ease.  This same ease should be available in SolidWorks assemblies!
Examples of 3DVia functions that should be added to SolidWorks assembly mode.
Ability to explode groups of parts within an assembly with one motion
Spherical explode
Onion skin mode
Magnet Lines
One new function in 3DVia Composer that should be added to SolidWorks drawing mode is the Magnet Line.   This allows the user to place one line (Magnet Line) on the drawing, then automatically attach to it a whole series of balloons so that they all are centered on that line.  The Magnet Line can then be moved around at any angle.  Regardless to the angle, all of the balloons remained aligned to each other by their common connection to the Magnet Line.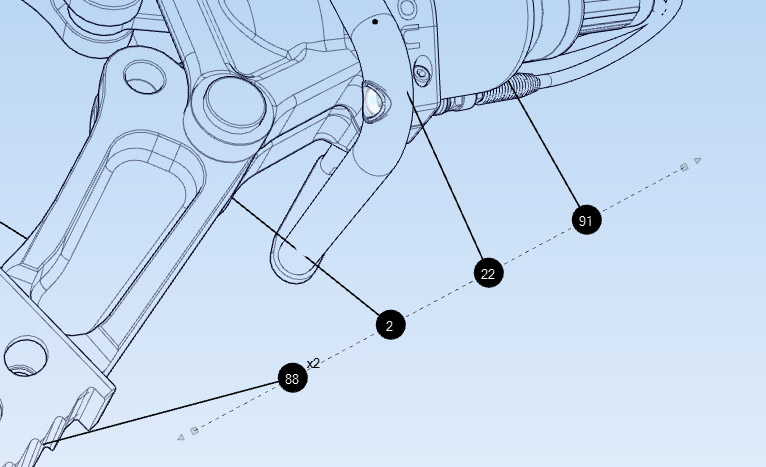 In fact, maybe Magnet Line shouldn't be limited to just aligning balloons.  Maybe it can be used to align any type of annotations.  Maybe the Magnet Line can be made to affect annotations by their start, end or centers.  If sophisticated enough, maybe the Magnet Line can completely replace the outdated MS-Office style alignment tools now available in SolidWorks drawing mode.