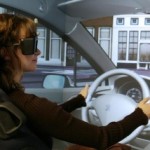 Last week, Dassault Systemes announced that the free download of the new 3DVIA Studio development environment now includes drag and drop stereoscopic 3D.  They state that this allows any user of the 3DVIA Studio to quickly create a "3D experience", not only for 3D monitors and TVs, but also for non-stereoscopic screens using the traditional red-blue glasses.
They claim the new functionality in their free 3DVIA Studio application will help developers and "average customers".  3DVIA Studio comes with tutorials that can get users started with this functionality within minutes.
I've personally not dabbled with the stereoscopic toys in 3DVIA Studio yet.  I did try out 3DVIA Studio recently, and I'm looking forward to playing around with it more.  For now, here's a quick introductory video about the new fucntionality.