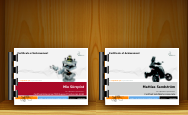 There continues to be a lot of interest in getting certified as SolidWorks Expert (CSWE).  Through there are no official accolades that go long with passing the CSWE, the certificate can garner employer and industry recognition of your established skills.  Even as the number of Certified SolidWorks Professional grows (CSWP), the number of those with the higher CSWE certification is still small by comparison.  Right now, there's just over 1500 CSWEs.  To earn your opportunity to take the CSWE exam, you have to pass the CSWP and also pass four advanced exam modules from a selection including topics like Weldments, Surfacing, FEA, etc.
Applian Way Technologies has a blog with several articles that are brief preparation guides for various exam modules. A Very Swell Idea, Inc has some good advice for taking the modules in their discussion of CSWP Weldment exam. 3D Dimensional Engineer also has a great series on CSWP Preparation.
SolidWorks website itself has great information for each exam, including the core, advanced and the expert exams.
Once you've earned your certificate, you can exhibit it in a number of ways.  The certificate with a unique code is provided to you in the form of a PDF file, which can be printed out or shown on your mobile device.  You can use your unique code number to allow others to verify your acheivement.  Banner images are also provided so that you can add a certificate badge to your emails or website.  You can also add your certification information to your Linkedin account.  Don't forget to notify your employer and colleagues.