I first earned my SolidWorks Professional certificate (CSWP) at SolidWorks World 2011.  Attendees of SolidWorks World are able take the CSWP exam if they specify such when they register for the conference.
Between SolidWorks World 2011 and 2012, I joined the DS SolidWorks Corp on the Product Definition team.  This is a busy job.  There was quite a stretch before I attempted any of the advanced certification exams.  There are several advanced exams, covering various areas of SolidWorks functionality.  You need to pass any four of the five CSWP advanced certificates in order to qualify to take the Certified SolidWorks Expert exam.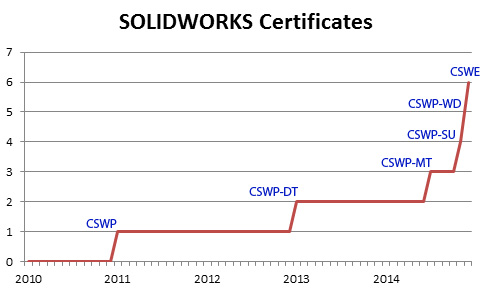 My path to earning my CSWE
As shown in the above chart, I took most of my advanced exams this year: Mold Tools, Surfacing and Weldment, after having the Drawings Tool certification for awhile.  I'm excited that I just earned my CSWE this week; a Christmas present to myself.  Just in time for SOLIDWORKS World 2015 and its secret CSWE event.  Jeff Mirisola wrote about his first CSWE event a couple years ago.  This year will be my first, having missing out for two years.
Here's my badges of honor:






Even though I've earned my CSWE, I may still attempt the final advanced exam for Sheet Metal at some point, plus any new exams that may come out eventually.
The number of CSWE's worldwide is still less than 1950 as of today (December 22, 2014), according to the Certificate Virtual Tester database.  Being a CSWE makes you stand out.  As an employee of SOLIDWORKS, it shows that I have a thorough understanding of how to use the software that I help design.  For users, it is a clear demonstration that you have excellent understanding of SOLIDWORKS and its various tools.