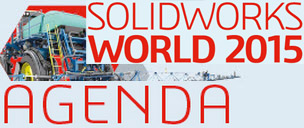 Just over two weeks remain.  There's still time to sign up and plan to go to SOLIDWORKS WORLD 2015.
I'm presenting 3 sessions this year:  Two identical hands-on sessions on new Drawing Zones functionality in SOLIDWORKS 2015; and one breakout session to introduce the topic of Model Based Definition in the context of SOLIDWORKS.
There are many other great SOLIDWORKS WORLD 2015 sessions, well over 200!  Below is just a short sample.
___________________________________
Did you enjoy this post? Why not leave a comment below and continue the conversation, or subscribe to my feed and get articles like this delivered automatically to your feed reader.