Dimension Palette is a great new function in SolidWorks 2010 that allows the user to edit most commonly accessed aspects of a dimension, right from the main drawing view pane.
Simply highlight or LMB click on a dimension. A ghost image of its Dimension Palette will appear nearby.  Move your mouse cursor over the ghost.  This forces it to fully materialize.  (I'm reminded of Ghostbusters for some reason.)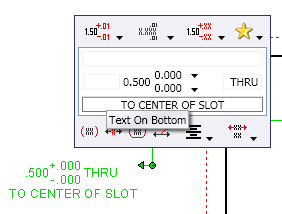 From that point, many of the dimension's attributes may be directly edited, such as tolerance style and range, dimension accuracy, and tolerance accuracy.  Also editable is text above, right, left and below the dimension.  Additionally, formatting is editable, including dimension position and justification, reference parenthesis, and inspection obround outline.  To aid in use of these new functions, small pop-up hint fields appear as the mouse cursor moves over each element.
Finally, the user can also quickly apply saved Dimension Styles (formerly known as dimension favorites) to the dimension.  This can be accessed by clicking on the gold star icon in the upper right of the Dimension Palette. Dimension Styles are much more automated than the old dimension favorites.  Not only does the user have access to any saved Styles, SolidWorks will also restore recently used formatting changes as Dimension Styles.

This means, when the user makes a change to a dimension, SolidWoks will automatically save the user's change as a Dimension Style.  Automatically saved Dimension Styles will show up in the Recent tab of the Styles window.  These Styles only reside in the current drawing.  (In order to use these Styles in another drawing, the user will still have to save the Style in the same way dimension favorites have been saved in previous SolidWorks releases.)
To replicate the same changes to multiple dimensions, the user simply has to edit one dimension (preferably through the Dimension Palette).  From that point on, to apply those same changes to other dimensions, the user need only select the Dimension Styles button for affected dimension and select their previous change from the Dimension Styles window.
Basically, the user can paint any various dimension formats as Styles to any following dimension.  This is a very cleaver execution of a long standing Enhancement Request to allow dimension formatting to be quickly copied from one dimension to another.
Don't quote me on this, but if I remember correctly, the current limit on the number Dimension Styles stored in the Recent tab is ten.  This may change at some point.  One added function I'd like to see within the Styles window is the ability to delete Dimension Styles from the Recent tab.  As always, with any great new functionality comes even a greater number of new requests for improvement.