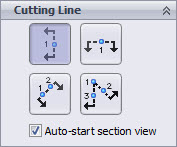 Section View Assist automatically comes up when you start the Section View tool without preselecting a sketch.  Section View Assist allows you to create very complex section views very quickly.  It also allows you to make the simplist section views faster than before, without the need to draw sketches on your drawing view.   Included in the new tool is the ability to shortcut the creation of simple section views even more!
If you do not use more complex section view cutting lines very often, you can by-pass the Section View Pop-up by checking the "Auto-start section view" setting.  This will allow you to place the cutting line and then immediately place your section view.  The setting is sticky, so you wouldn't need to choose it again.   If many cases, you can create your section views with just two quick mouse clicks.
Also in New in SolidWorks 2013
What's New in SolidWorks 2013: Section View Assist Part 2 – Shortcutting cutting line creation
Did you enjoy this post? Why not leave a comment below and continue the conversation, or subscribe to my feed and get articles like this delivered automatically to your feed reader.