Before this month, I've never owned any 3Dconnexion 3D-mice in my life.  Heck, I wasn't even exactly sure how to pronounce 3Dconnexion.  That "x" in the middle of the name throws me off.  Despite this, I've had some interest in their devices.  This has never taken me to the point of testing one on my own.  After all, I feel I'm pretty fast with my mouse-work and keyboard shortcuts.  So, when 3DConnexion asked to meet with me at SolidWorks World 2009, I was interested in seeing what they wanted to show me, yet skeptical about finding any game changers.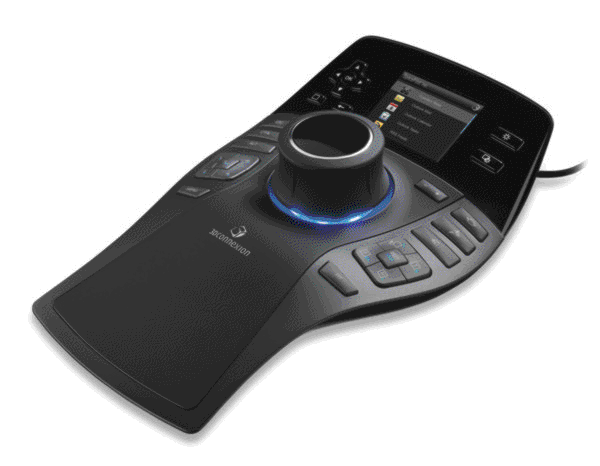 They introduced me to the SpacePilot PRO 3D mouse.  (It may already be available on Amazon or other locations if someone is interested in looking for price comparisons.)  The SpacePilot PRO is the latest 3D mouse in a long line of professional 3D-mice which "have rewritten the rules on the way design engineers and professionals interact with 3D environments," as noted by Dieter Neujahr in the official press release.  OK, so what am I doing quoting press release comments?
Now, anyone that reads my product reviews knows I'm no sell-out.  I don't give shiny reviews to get free stuff.  I don't run promotions.  For full disclosure, I must say that 3Dconnexion did give me a free SpacePilot PRO a few days ago.  This was given to me without any strings attached.  Technically, they didn't even ask me to write any review or comment on the unit they give to me.  I made it clear back in February that if I did review the product based on the unit they were going to give me, it was going to be unbiased.  They seemed to insist upon that.  Even at that time, I had a few critical comments about the device (which I cannot remember now), to which they were receptive.
Does getting a free $499 device impact my opinion?  You betcha….JUST KIDDING!!  However, I do feel it is appropriate for me to write about my experiences, to give others a sense as to whether these devices are worth the cash.  Expect my usual sarcastic comments juxtaposed with well deserved praise, and demands for further improvement.
I'm not going to write one all encompassing review.  This is a highly capable device.  I doubt I can write completely about my experiences with this unit in one review without the article getting excessive in length.  I mean, just look how long this article is already, and I haven't even started my review yet!  More information will come soon.