Auxiliary view functionality has now been expanded to follow several international standards more closely.  When an auxiliary view is created at a nonorthographic angle, the standards specify that the view should be rotated into an orthographic direction.  To account for the change in alignment, ASME and GOST standards specify the addition of a rotation symbol that may also include the actual angle of rotation.  SolidWorks now supports these requirements.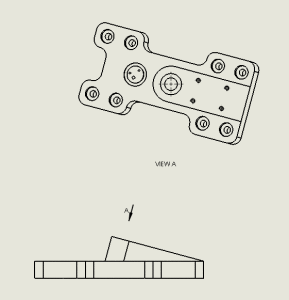 To set an auxiliary view to orthographic rotation for the example above:
Right-click on the auxiliary drawing view.
Select Align Drawing View, then Horizontal to Sheet Counterclockwise.

Select Align Drawing View and rotation direction


.

The view is rotated.  Angle symbol and degrees is added to the view label
If center marks are in the view, they can be rotated by selecting them and entering o (zero) in the Angle group box in their PropertyManager.
The display of the angle can be adjusted in the Document Properties under Tools>Options…>Document Properties>Views>Auxiliary in the Label options area.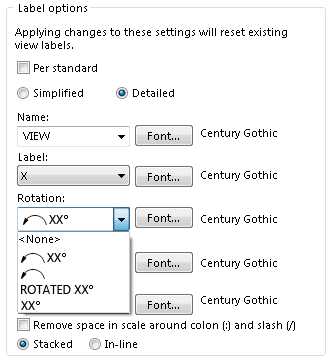 These options and capabilities are also available for Section Views with the same instructions as above.
Also, these options are available regardless to standards.  However, GOST standard does has special symbols.  All rotation symbols are also available in the new Views symbol library category.
The next article in this series will cover how to add a view's angle of rotation to any view type.