The top ten Drawings specific ideas submitted to SolidWorks World 2013 Top Ten list were heavily focused on dimensions and drawing views.
SolidWorks World 2013 Top Ten Drawings Ideas
Create auxiliary line for dimensioning angles – Implemented in SW2015
Perimeter Dimension or Total Length Dimension
Allow mirroring of drawing views in the drawing
Isometric view break
Ability to create half dimensions (Option to change any dimension line to foreshortened)
On drawings, zoom to fit should ignore view bounding boxes – Implemented in SW2015
Don't re-size center marks with scale of drawing view or sheet
Ability to create Alternate position view on sectioned/broken-out section view
Make an easy interface to modify format of hole callouts (without having to edit calloutformat.txt)
Projected view of a break view should have option 'align breaks with parent' enabled by default
As of SOLIDWORKS 2015, the implementation for the SWW13 list is 20%.  Create auxiliary line for dimensioning angles was the only Drawings idea to get onto the official SolidWorks World 2013 Top Ten list.
Voting is now open on the current SOLIDWORKS World 2015 Top Ten list.  Vote on as many ideas as you wish!  Just remember, you have to logon to see the ideas and vote for them.
Also in Past Years Drawings Top Ten
Happy Holidays!
I first earned my SolidWorks Professional certificate (CSWP) at SolidWorks World 2011.  Attendees of SolidWorks World are able take the CSWP exam if they specify such when they register for the conference.
Between SolidWorks World 2011 and 2012, I joined the DS SolidWorks Corp on the Product Definition team.  This is a busy job.  There was quite a stretch before I attempted any of the advanced certification exams.  There are several advanced exams, covering various areas of SolidWorks functionality.  You need to pass any four of the five CSWP advanced certificates in order to qualify to take the Certified SolidWorks Expert exam.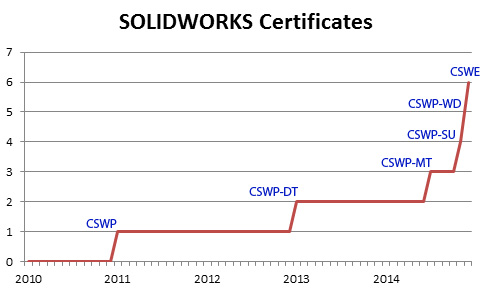 My path to earning my CSWE
As shown in the above chart, I took most of my advanced exams this year: Mold Tools, Surfacing and Weldment, after having the Drawings Tool certification for awhile.  I'm excited that I just earned my CSWE this week; a Christmas present to myself.  Just in time for SOLIDWORKS World 2015 and its secret CSWE event.  Jeff Mirisola wrote about his first CSWE event a couple years ago.  This year will be my first, having missing out for two years.
Here's my badges of honor:






Even though I've earned my CSWE, I may still attempt the final advanced exam for Sheet Metal at some point, plus any new exams that may come out eventually.
The number of CSWE's worldwide is still less than 1950 as of today (December 22, 2014), according to the Certificate Virtual Tester database.  Being a CSWE makes you stand out.  As an employee of SOLIDWORKS, it shows that I have a thorough understanding of how to use the software that I help design.  For users, it is a clear demonstration that you have excellent understanding of SOLIDWORKS and its various tools.
Also in SOLIDWORKS Certification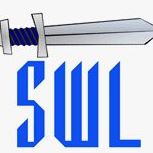 It's been a long time since things have worked the way I want on SolidWorks Legion website.  This blog was started back in 2007 as a follow-on to my SolidWorks resource website.   SolidWorks Legion is now many times more popular than that original site.  When I first started this blog, I loaded it up with as many bells and whistles as I could find from WordPress.  The blog was loaded pretty heavy with plugins.  Despite using WordPress at its limits, SolidWorks Legion worked well enough for a long time, with a lot of cool features via the plugins.
This all came to a crashing halt when my article about Linux support for Draftsight went viral in March 2011.  With 10's of thousands of hits in an extremely short period, SolidWorks Legion was literally slashdotted (a.k.a, hug of death) from Slashdot and other sites by very happy Linux fans wanting a free or cheap professional 2D CAD application.  SolidWorks Legion was up and down and up repeatedly for several days.  Up to that point, SolidWorks Legion was running about 400 unique hits a day.  Nothing has been the same since.  After the traffic settled back down, site traffic averaged 600 hits per day.
Unfortunately, that pushed the site up over the capacity allowed by my shared server.  I had to move SolidWorks Legion to what's known as a Virtual Private Server.   Since traffic seemed to be steady, I didn't mind paying the extra.  The problem is that SolidWorks Legion never really recovered from being slashdotted.  I had to scale back features, remove this and that elements, and tinker with settings just to get things to the point where I wasn't constantly monitoring the site.
To add insult to injury, since that time, Google changed its search result algorithm to reduce the importance of blogs.  Over night, my unique hits dropped from an average of 600 to 200 per day.  It's been a painful few years of website management.   On top of it all, I was hired on the Product Definition team by DS SolidWorks Corp later in 2011, so my available time for the site has been more constrained that ever.  This blog has been limping along for awhile now.  Each new release of WordPress seemed to slow things down even more, even with the use of site caching.
Well, I have some good news.  Thanks for a couple of friends (Dan Herzberg and Charles Culp) recently, I discovered new ways to get the website humming again (I hope).  First thing I was able to do it get notifications working again with IFTTT.com.  Using this site helps take pressure off my site by removing the need for various questionable social media publishing plugins.  SolidWorks Legion is now publishing automatically to Twitter (@swsuper), SolidWorks Legion page on Facebook, and several other outlets.  The one annoying hole has been Google+.   Jetpack WordPress plugin has solved this problem; and a whole lot more.  Jetpack brings a lot of functionality to self-hosted WordPress sites.  Much of this functionality was earlier only available via a myriad of poorly written plugins.  Jetpack appears to be a well constructed plugin that allows SolidWorks Legion to have all of its old bells and whistles again, plus a lot more (stuff I've wanted to add for a long time).  In addition, I've dropped caching, as that seemed to make things worse in the long run.
Let's see how things go.  I'm hopeful that my old site is not just back to its old self, but better than ever!  Let me know what you think!  Has  SolidWorks Legion been better behaved over the past week?
SolidWorks World 2012 Top Ten list actually included one drawing specific idea, and one more general idea that affected drawings within its scope.   The odd thing about the Drawings ideas this particular year is that one of them is already addressed, and another is not clear about its intent.  Given the variety of situations surrounding SWW2012's submissions, I'll add commentary to each idea for clarity.
SolidWorks World 2012 Top Ten Drawings Ideas
Address Shaded with Edges Bleed Thru issue – This idea made it on to the official Top Ten for SWW12.  It was implemented in SW2014 for parts, assemblies and drawings.
Dimensions should stay where you place them – This idea also made it on to the official Top Ten for SWW12.  However, this idea is an oddity since it is requesting behavior that is already supported by SOLIDWORKS from day one.  Placement and organization of dimensions are controlled by two settings in SOLIDWORKS.  The first setting for model item dimensions is called "Annotation view layout", and is found at Tools>Options…>Document Properties>Dimensions in the Offset distances area.  This setting places your model item dimensions on drawing views as they are organized in the model.  A second setting was introduced in SolidWorks 2010, called Reduce spacing when dimensions are deleted or edited (add or change tolerances, text etc…).  Yup, that's the name!  It's found at Tools>Options…>System Options>Drawings near the bottom of the list.  This setting forces dimensions to maintain assigned offsets.  As you add and remove dimensions, the other dimensions automatically adjust to maintain offsets.  If you don't need SOLIDWORKS to apply your offsets automatically, then simply turn this setting off.  Here's an article about this setting when it was introduced.
Don't show hidden lines in section views and broken-out sections – This idea was half implemented in SolidWorks 2013.  Hidden lines are now automatically turned off for section views.  No setting is available for broken-out sections yet.
Don't re-size center marks with scale of drawing view or sheet – This idea has not been implemented as of SOLIDWORKS 2015.
Allow multiple exploded views per configuration – Sound familiar?  It was on the SWW11 list as well.  This idea was implemented in SolidWorks 2013.
Drawings: make intersection selectable when dimensioning drawings – This idea was imlemented in SOLIDWORKS 2014.
Ability to create a "purchased" component BOM and "manufactured" component BOM – This idea is very similar to "Ability to Filter BOMs" from the SWW11 list.  This has not been implemented as of SOLIDWORKS 2015.
Drawings: Revision Cloud – This idea was implement in SolidWorks 2013
Dashes should not be allowed at the end of a line – This idea has not been implemented as of SOLIDWORKS 2015.
Parts as references in drawing views – This idea is a good example of a bad title.  From the title alone, it is impossible to really know what this idea is actually talking about. You wouldn't have a drawing view of a part unless the part was referenced.  The lesson here being, when submitting your idea, please be sure to use a clear title that explains your idea well enough on its own.
The implementation rate for Drawings ideas from the SWW12 list is a bit harder to calcuate, given status of several of the ideas.  However, I'm going to call it 61%: counting #2, counting half for #3 and not counting #10 at all.
Voting has been open on the current SOLIDWORKS World 2015 Top Ten list for a couple of days.  Go there are vote for your favorites.  Vote on as many ideas as you wish!  Just remember, you have to logon to see the ideas and vote for them.
Also in Past Years Drawings Top Ten
Here's my looking-back slide show of SOLIDWORKS World 2014 in San Diego, CA.
This slideshow requires JavaScript.
I'm now looking forward to SOLIDWORKS World 2015 in Phoenix, AZ!